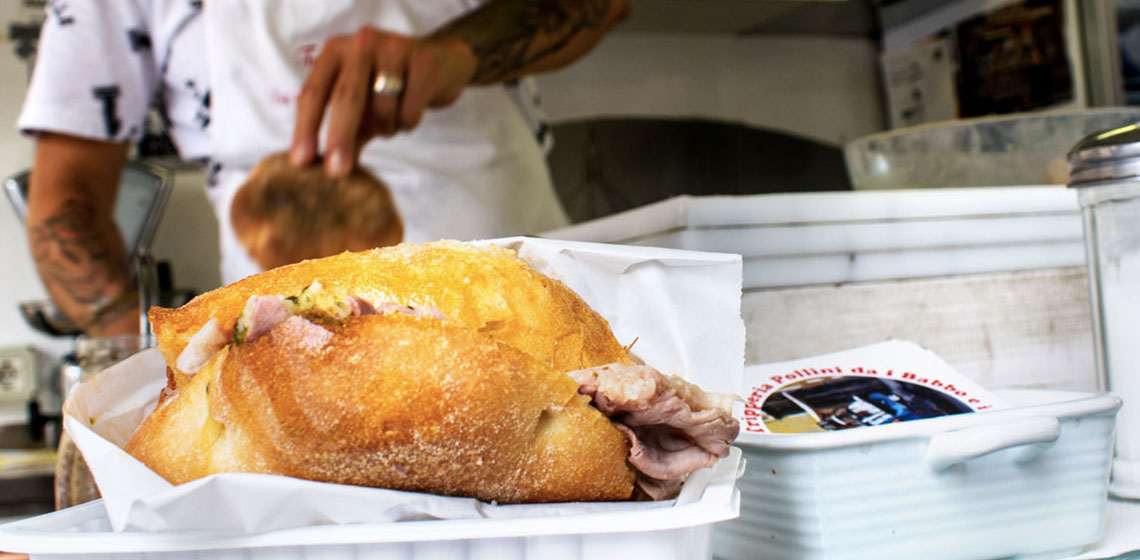 The famous lampredotto panino: much more than just a simple street food
This iconic food of Florence is to be enjoyed in the street, as tradition would have it.
The lampredotto panino is more than just a simple street food—it's an institution.
Nearly every Italian city has its trademark street food or typical recipe, but
Florence's lampredotto panino is a genuine icon
, on par with the
Dome of the Cathedral
or
Palazzo Vecchio
(we give them their just due too, of course)!
Eating a lampredotto panino means having
a genuine experience
with Florentine sauce
(literally). It is a dish that embodies the spirit of the city—and more generally, that of Tuscany—in food form. There are two main reasons why.
- The first is that
it is an example of
cucina povera
or modest peasant fare, made up of "salvaged" ingredients, as is the case for many other famous Florentine dishes (pappa al pomodoro and ribollita, for example, are prepared using bread leftovers).
- The second is that
the name comes from a "mangling" of the name of another dish
, one that was eaten by nobles. The poor classes couldn't afford to eat it, but to measure up to their wealthy counterparts they decided to substitute it with a humble but equally tasty option.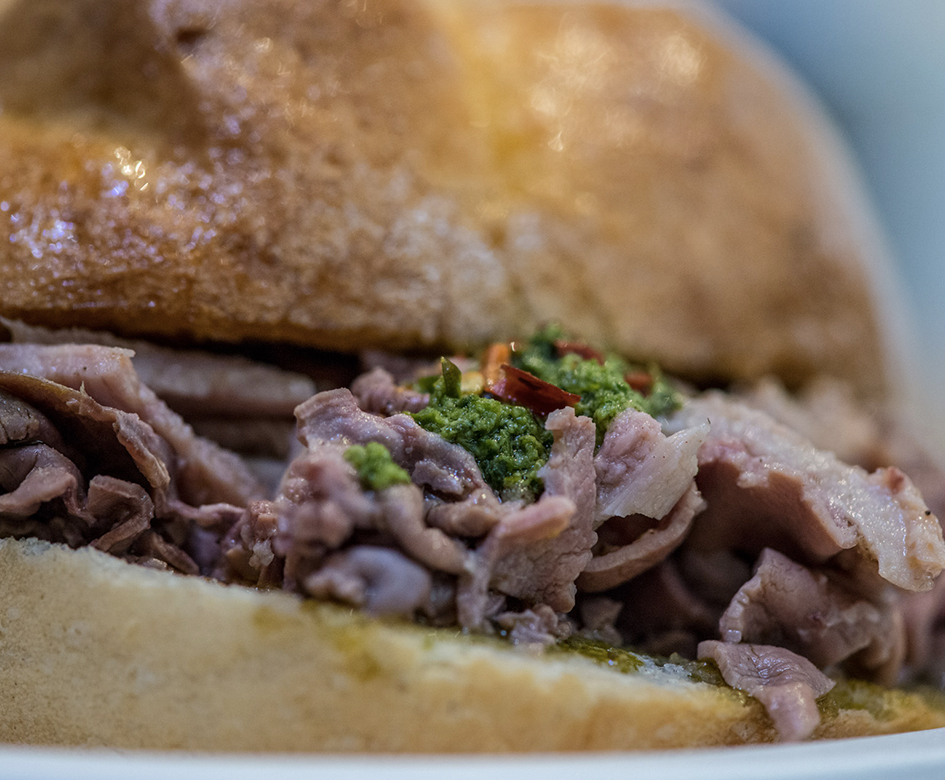 Credits Foto Alberto Sarrantonio (www.albertosarrantonio.com)
What is lampredotto and why do we call it that?
We'll concede that if you're vegetarian or have very refined tastes, a
lampredotto
panino isn't going to seem like your cup of tea. But if you want to taste something truly delicious and special, then yes, you really need to try this.
As you may know, lampredotto is made with the innards of a cow—specifically, with the abomasum, one of the quarters of the stomach. It gets boiled with various herbs to make it tender and well seasoned. Next it's cut roughly and then placed on sandwich bread, which in turn gets dipped into the broth to make it all even more flavorful. To taste, you can add the
traditional green sauce
—or if you're a purist, just go with simple salt and pepper.
What you might not know is the origin of its name. It seems to derive from a type of fish resembling an eel: the lampreda (lamprey). Despite its rather disconcerting appearance, in the past it was considered a real gourmet dish, served on the plates of nobles.
The everyday Florentine population obviously did not have access to such a sophisticated dish, so they invented an alternative. Ultimately the aesthetic so closely resembled that strange mouth of the fish that they decided to give it a similar name… but something that goes down a little easier, let's say:
lampredotto
.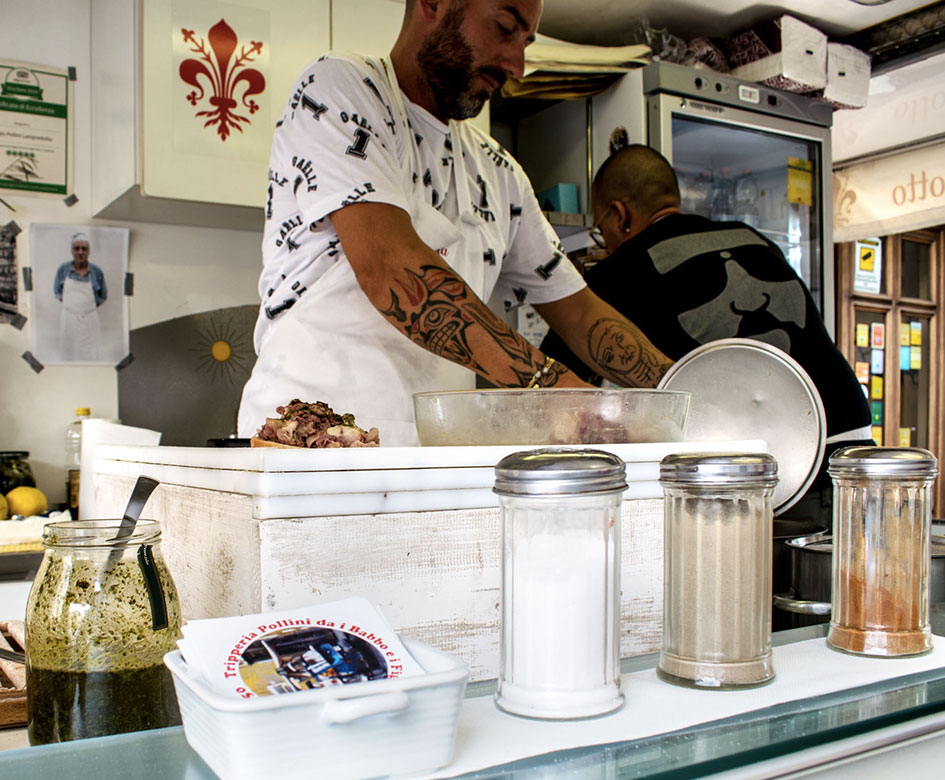 In Florence, lampredotto panini can be purchased from various "lampredottai" spread around town. In the heart of the historic center, there are several that are very well known:

Nerbone

, located on the ground floor of the
Mercato Centrale
in the San Lorenzo area (the oldest in the city);

L'Antico Trippaio

in piazza dei Cimatori (just a few steps away from
via de' Calzaiuoli
);

Il Trappaio del Porcellino

, in piazza del Mercato Nuovo, right next to its famous namesake statue; the

Trippaio Pollini

on via de' Macci (in the Sant'Ambrogio area); and

Lorenzo Nigro

, located on the more contemporary First Floor of the
Mercato Centrale.
Outside Florence in surrounding towns you can find venues and stalls that serve this delicacy. Also, it's worth noting that beyond just sandwiches, lampredotto can be served as its own dish, for example "in inzimino" with tomato sauce and chard.
In short, if you're in Florence or the surrounding areas, you'll have many chances to sample this standard. Walking through the small streets, you'll most certainly stumble upon an inviting scent calling you to try it—once that happens,
all you can do is give in and follow your nose, then dig in!