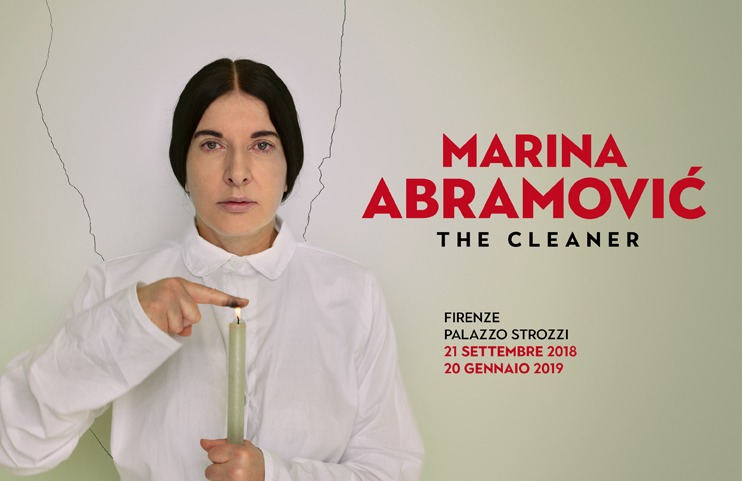 Until January 20, 2019,
Palazzo Strozzi is hosting
Italy's
first major retrospective exhibition dedicated to Marina Abramović
, one of the most celebrated figures on the contemporary artistic scene. She's a formidable and controversial figure who revolutionized the idea of "performance," involving her own body in her works, testing its limits and expressive potential.
Marina Abramović. The Cleaner
is the fruit of a direct collaboration with the artist and is
part of a series of exhibitions dedicated to major figures from the contemporary art world
, including Ai Weiwei (2016), Bill Viola (2017) and Carsten Höller (2018). Once again, some 100 works will be distributed across the piano nobile, the Strozzina undercroft and the courtyard, transforming the palace into a unified space. The works offer a panoramic overview of the artist's most famous pieces from her long career, spanning the 1960s to the present day.
You'll be able to enjoy the first Palazzo Strozzi exhibition dedicated to a woman artist, the most important representative of performance art. Expect
an immersive narrative highlighting the relationship between Marina Abramović and Italy,
the setting for some of her most memorable performances, which will be recreated in the exhibition.
With her fundamental contributions to the evolution of contemporary art, Marina Abramović is an artist who defined an era. Reflecting on her own life,
she drew attention to crucial themes that affect all of us
, interpreting the present.
Visiting the exhibition, you'll get to experience firsthand a range of "re"-performances that will be staged daily in the various spaces of Palazzo Strozzi. Bringing them to life will be a group of hand-selected performers who have trained specifically for this exhibition;
you'll get a chance to dip your toes in
experiences that make the exhibition
a true "living experiment."
Marina Abramović. The Cleaner
offers
a unique chance
to discover the complexity of her art through works that range from strong, violent and risky acts to exchanges of gestural and silent energy, to true firsthand encounters with audiences. In recent years, audience involvement has become more and more centric to Abramović's work.
Exhibition activities for adults and children
In keeping with the tradition of past exhibitions, Palazzo Strozzi will offer visitors the
opportunity to book special guided visits.
For families with children ages 3 to 6:
Magic objects
on October 17, November 7, December 19, and January 16 from 5 to 6pm.
For families with children ages 7 to 12:
Dressing in energy
every Sunday from 10.30am to 12.30pm.
Booking is required. Activities are free with the entry ticket to the exhibition. Make a reservation by calling tel. 055 2469600 or emailing prenotazioni@palazzostrozzi.org.
For teens (ages 14 and up)

there's an

exhibition kit,

containing a book with various notes on the exhibition and materials to experiment with. With the Kit you can draw, take notes, discover the history of Performance Art, give yourself time to observe and listen, get to know Marina Abramović's biography and immerse yourself in the work of this fascinating artist. The Kit is available any time, for free, at the info point of the exhibition. More information: edu@palazzostrozzi.org.
Are you interested in modern and contemporary art?