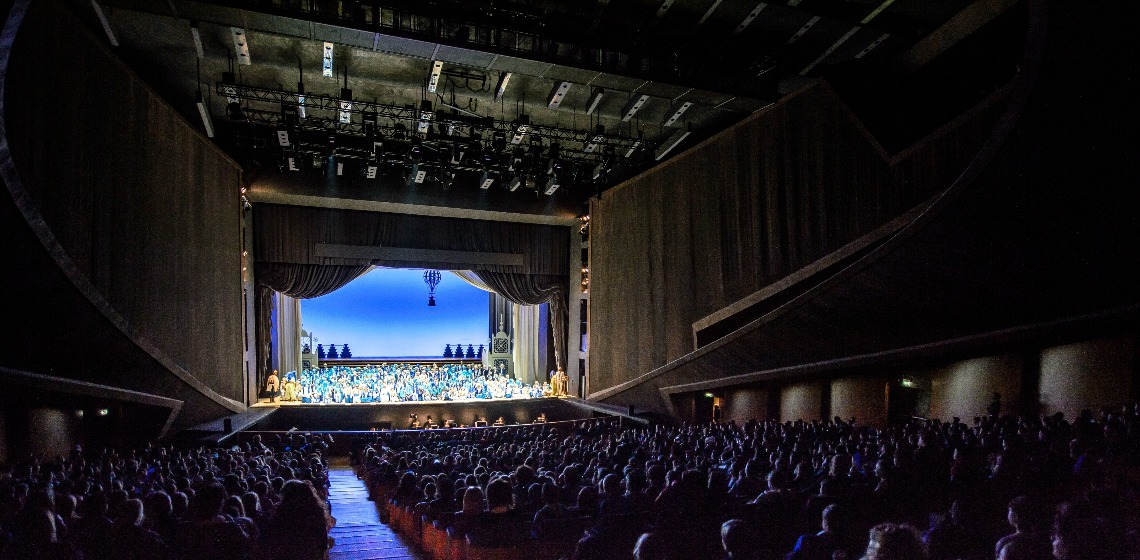 Home to the Maggio Musicale Fiorentino orchestra and choir, Teatro del Maggio is an
elegant and futuristic structure
ideated by the architect
Paolo Desideri
(ABDR studio). Designed to have excellent acoustics, it can hold up to
1,800 seats
that are distributed among the stalls, boxes and gallery. In 2014, he received the National Award for the best architectural work created in Italy.
The Maggio Musicale Fiorentino Festival
Teatro del Maggio Musicale Fiorentino owes its name to the highly esteemed
Maggio Musicale Festival.
It's the oldest in Italy, and among the oldest in Europe along with Salzburg and Bayreuth.
Founded
in Florence in 1933
, it immediately acquired a strong and important international vocation, becoming a point of reference for the
greatest names in musical entertainment
, as well as high caliber conductors, directors and artists who have graced the Florentine stage for decades. What was once the glorious Teatro Comunale is now the current Teatro del Maggio, inaugurated in 2014.
Zubin Mehta - Honorary Director
Since 2006, the world-renowned
maestro Zubin Mehta
has held the title of Honorary Conductor for Life, and that of
Chief Conductor since 1985
. The relationship between Florence and the Teatro del Maggio has long been more than merely a great relationship between a festival and an artist; Zubin Mehta has gifted the city his excellence, his tireless
passion for music
, and his presence, establishing a deeply special relationship with our music scene which began with La Traviata at the Teatro Comunale in 1964, his first opera in Europe.
Concerts and shows at the Teatro del Maggio are a must
for all opera and classical music lovers
, but also for all those hungry for culture, whether it's
young people
seeking a different kind of evening out, or those on the lookout for a timeless gift. Its operatic, symphonic and concert seasons take place throughout the year, offering a vast calendar featuring
many international artists.