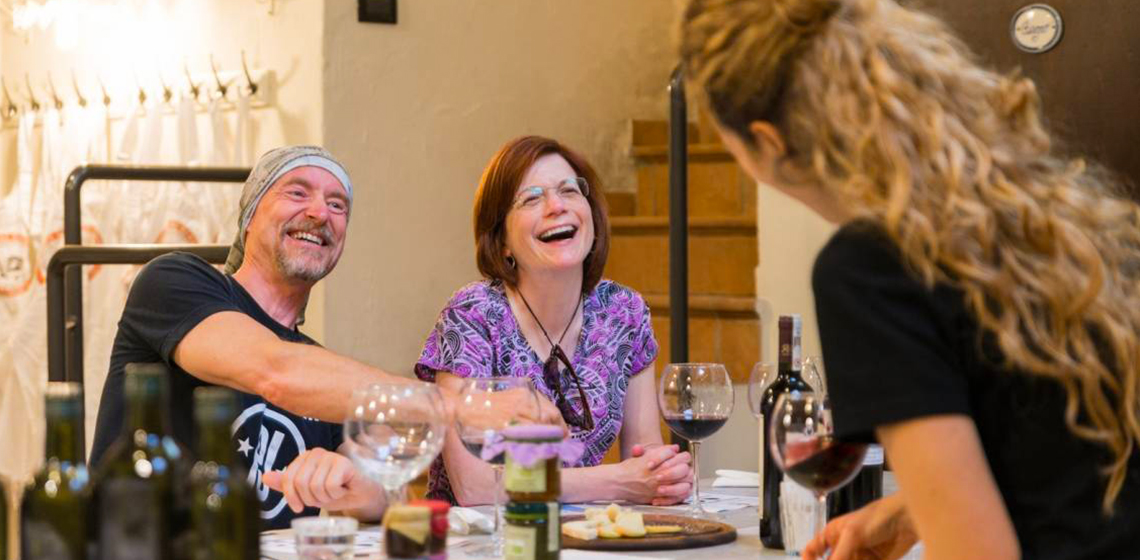 Food-centric experiences this Christmas in Florence
Immersive, interactive adventures for your palate this season.
The holiday season is the perfect time of year to explore the many food-centered experiences the Florence area has to offer.
Far from just an ordinary restaurant meal or evening out, there are plenty of
fully immersive and interactive adventures fit for every palate.
Throw on an apron for a cooking class, sip your way through a wine enthusiasts' dinner, sift through the booths at Florence's colorful marketplaces: just go where your tastebuds and curiosity take you!
Want to taste and experience true Tuscan cuisine?
Practice makes perfect!
Take a cooking class and you'll take home plenty of memories—not to mention practical, authentic recipes. These options all make perfect gift ideas, whether for loved ones or for yourself.
Sign up for this
VIP Cooking Class in a Noble Villa & Farmers' Market Tour
and you'll take a Florentine market jaunt through the colorful,
farm-fresh fruit and veggie stands
, collecting what you'll need
to cook the day's meal
. Picking up fresh produce is such a simple pleasure and makes all the difference in enjoying the feast you'll prepare later.
After a market sweep, you'll climb into a comfy van to head to
the heart of the Tuscan countryside
for a cooking class and traditional Tuscan lunch. While learning the tricks of the Tuscan cuisine trade from a charismatic and attentive chef, you'll prepare a delicious homemade spread that the group will enjoy against the backdrop of rolling hills and rustic Tuscany.
There's another day trip option for those who want to stay outside the city (when the Tuscan countryside calls, it's hard to resist, particularly at this time of year: think Christmas lights in quaint town squares, nativity sets lining dirt roads and main drags, and fairytale, gingerbread-house-esque decorations at every turn).
Pair it all with Italian pizza and gelato
and you have a winning recipe (no pun intended!). In the heart of the
Chianti region
, well-known for its landscape, its household-name wines, its cuisine and its unique atmosphere, try out this
Vip Small-group Tuscany Pizza and Gelato Cooking Class.
You'll learn how to make a pizza—the perfect "skill souvenir" to take home with you! - and learn about the secrets of gelato making (this delightful dessert has its roots in Tuscany, with its origins generally attributed to Caterina de' Medici).
In more of a city kind of mood?

Stick around downtown Florence for this more
urban-tinged
Pizza and Gelato Making Cooking Class
,
which begins with a beautiful stroll through the historic center,
an UNESCO World Heritage Site and home to incredible monuments at every turn. Bonus: this tour is particularly budget-friendly (and the views, of course, are priceless!)
You're in the right place: much of the Florence province is in prime
Chianti production territory
. Chianti wines are renowned the world over for their signature Sangiovese composition, not to mention their status as a symbol of community, conviviality and connection to the land.
Beyond wines
, Tuscany is tough to beat when it comes to
olive oil production
: there's nothing quite like the taste of "new oil" from the year's harvest drizzled on a simple slice of bread. Or, for that matter, paired with fresh produce for dipping; plunked in a soup that needs a little something extra; or tossed in a salad any way you like.
The "green gold" paired with Chianti red wine even adds an unintentional but welcome Christmas vibe to the table!
You can combine both of these Tuscan staples—plus a tasting board of cheeses and cold cuts and many more delicious
regional specialties
, which shift according to the season—at this
Wine enthusiast's dinner at a boutique tuscan winery and wine lab
.
When choosing a Florentine food experience, keep your mind open and your palate primed for adventure. Time to start tasting!