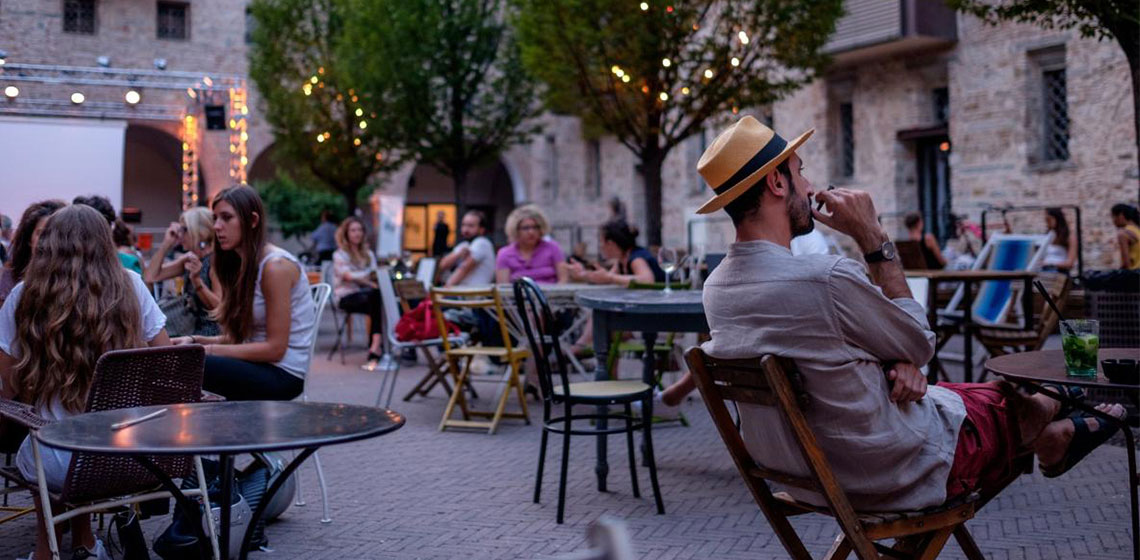 Le Murate. A popular place for events, concerts, exhibitions
A prison for many years in Florence, Le Murate is today a gathering place for students, a location for concerts and events, a popular spot for contemporary artistic and literary production.
It almost feels like it isn't in Florence.
This is what you might think as you enter the complex of Le Murate. And yet, you are definitely in Florence. To be exact, you're in the heart of the historic neighbourhood of Santa Croce, just a few steps away from the Arno river and the Sant'Ambrogio Market, ten minutes from the city center, in a quiet area that is extremely popular with university students.
Florence is also this, a city with a modern, international and young spirit, and Le Murate is one the best examples of such a spirit. Le Murate was the subject of a skillful urban redevelopment project that resulted in a multi-purpose complex:
a center for contemporary art and culture
, offering exhibitions, workshops and other artistic and cultural activities focusing on contemporary themes and styles;
a
literary café
, a place to drink a coffee or sip a happy hour drink while participating in one of the planned events: readings, debates, video showings, exhibitions of art and photography, live concerts and family activities; as well as a restaurant, apartments, offices and businesses, all in a framework tinged with a Central European flavour.
The renovation project at Le Murate was carried out with the aim of creating a multi-purpose space, promoting the urban space without altering its historic and architectural value. The work was conducted by a team of architects and was inspired by Renzo Piano. The former monastery (called murate because the earliest sisters voluntarily confined themselves to the building) was transformed into a fascinating and lively place, a public gathering space that has since become a true meeting point in Florence.
Just think that complex dates to the 1300s and was a monastery for centuries! Then, for over 100 years (beginning in the 1880s), it was the city's men's prison (until 1985) and was at the center of many dramatic events, like World War II, when it was exclusively used as a prison and for the torture of Jewish citizens and partisans, or during the flood in 1966, when rescuers saved prisoners trapped in their cells as the river swelled over its banks.
Thanks to recovery work, visible traces of Le Murate's years as a prison remain, fascinating and disturbing at the same time: spaces and objects that serve as evidence of a past that seems so long ago. In addition to the vivacity that characterizes the place today, Le Murate also has an incredible story to tell, so take a walk through its rooms to hear it and, in a certain sense, relive it.