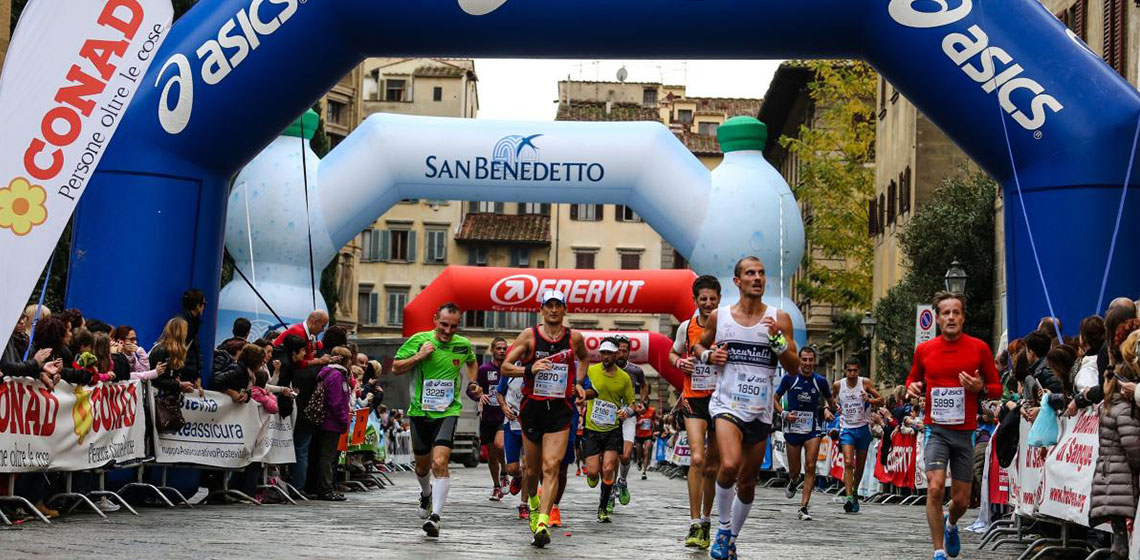 Florence Marathon: 42 km of passion and beauty
Every November, the hub of the Renaissance hosts a race that captures the hearts of the city.
Like other large cities around the world,
Florence
has a marathon of its own, a race that remarkably mixes passion and strength.
The Florence Marathon
is
the most important
street-circuit race in
Tuscany
, and along with that of Rome, the most important marathon in
Italy
.
More than a sporting event
A top-notch marathon and the goal of every runner, this race is a sporting event unlike any other: its magical and candid atmosphere touches more than just the runners.
A
marathon
is more than a sporting event to train for; it's a shared experience for everyone involved, from the runners to the spectators.
The winner isn't the first to cross the finish line; every person that runs the strenuous race wins in their own way, including the city itself.
The event is a moment of
celebration
for everyone, an example to be followed by other sports. Anyone that's ever been to a marathon knows that the atmosphere is like no other, spectators cheering on the runners, especially those who are struggling.
The numbers of the Florence Marathon
The Florence Marathon
, this year happening on
November 27
, is lucky enough to take place in one of the most beautiful cities in the world.
The course starts and finishes in
Piazza Duomo
, winding through the historical center, through piazzas and over bridges –
a 42-km-long
dive into the history and culture of
Florence
.
For more than 30 years, runners have converged in Tuscany's main city to race among the city's historic monuments and buildings, and despite their exhaustion, they're able to enjoy Florence's unmatched beauty.
The Florence Marathon
is among the top twenty of
the world's largest running events
.
The quality of the event planning and of the running circuit (without inclines, as per regulation) is considered among the best in the world, the last event boasting a total of 9000 participants.
Throughout the year, the same association organizes other races in the city, such as
Corri la vita
and the
Notturna di San Giovanni
.
Corri la vita
is a
charity race
with a humanitarian goal: all the proceeds go directly to Florentine health facilities battling breast cancer or other volunteer organizations dedicated to aiding the ill.
It's a heavily celebrated event with a high number of participants, a real celebration for the entire city.
La Notturna di San Giovanni
is an historic race (
one of the most ancient in all of Italy
) organized in conjunction with the holiday of
the city's patron saint
,
Saint John the Baptist
.
The race begins during the night and follows a 10-km path, accompanied by a non-competitive 4-km path, called
Family Walking
.