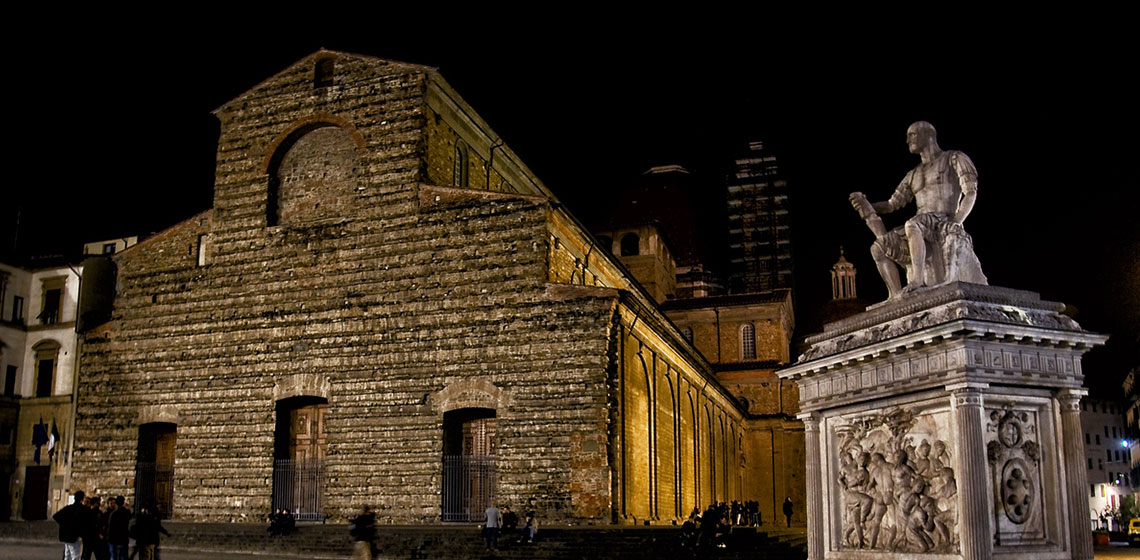 The people and the signoria of Florence: the San Lorenzo neighborhood
San Lorenzo is the Florentine neighborhood where local culture meets Medici history.
Strolling through the streets of the
San Lorenzo neighborhood
is like finding yourself in perfect balance on a tight rope: on one side you face the grandeur of the monuments built by t
he Medici
, and on the other, the simplicity of local street stands and historic shops.
A hop away from the center (a few short seconds from
Piazza del Duomo
), nestled between the busy
Santa Maria Novella station
, the elegant
via Cavour
,
via de' Cerretani
and the bustling
via Nazionale
,
San Lorenzo
is one of those places where you could spend your entire day, strolling through its narrow streets, shopping at the local market, tasting typical food and marveling at the
artistic masterpieces
around you.
The popular side of the neighborhood
San Lorenzo
is filled to the brim with life: for most of the day, market stalls surround the impressive
Mercato Centrale
, where swarms of people peruse, bargain, and purchase goods from morning to night.
Not to mention the
Mercato Centrale
itself, where you can indulge in your every desire; your taste buds will be especially satisfied with the selection of
typical Florentine food products
.
From there, the streets of the neighborhood unwind in every direction, housing
restaurants
,
bakeries
and
shops
of every kind:
authentic Florence
with an
eclectic twist
.
The other side of the neighborhood is ruled by the
Medici family legacy
.
In a short range of distance, you'll find a cluster of some the most breathtaking works left behind by the
Medici
.
In the
Medici Riccardi Palace
, for centuries the hub of the family's power, you can view the spectacular noble rooms, including the jaw-dropping
Chapel of the Magi
(entrance on Via Cavour).
The San Lorenzo Basilica
, Florence's main cathedral for three centuries, is the only church with an unfinished facade, making it one of the
most evocative churches
in Florence.
The Laurentian Library
, a building designed by
Michelangelo Buonarroti
, houses one of world's
most important manuscript collections
.
Last but not least, visit the
Medici Chapels
, an extraordinary mausoleum containing monumental tombs of the family, including that of
Lorenzo the Magnificent
.
The buildings and monuments can be visited during their opening times, but to enjoy the neighborhood, make your way over in the early morning when the chaos of the day has yet to explode.
Or try in the early evening around dinnertime when the bustle of the day has calmed in the streets, and
Giovanni delle Bande Nere
, the marble guardian of
piazza San Lorenzo
(the only real military leader of the
Medici family
), reigns over what for centuries was his family's main neighbourhood.