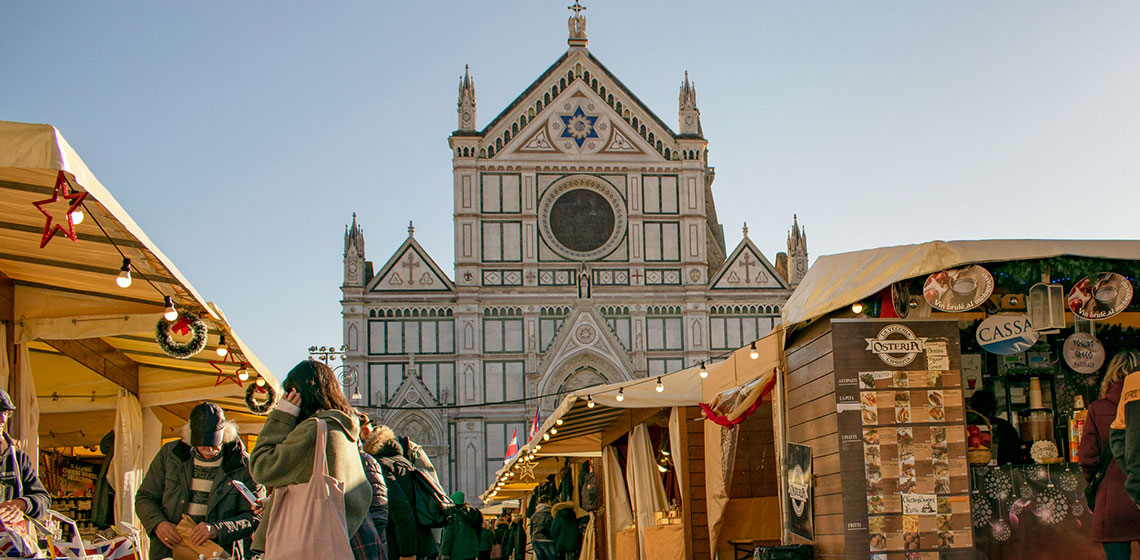 A day spent
shopping
in
Florence
is unlike anything else, especially around
Christmastime
.
Let your eyes wander to the beauties of
Florence's architecture
as you pass by glamorous shop windows; stroll through the different shopping areas to find things fit for everyone's needs.
Florence's shopping zone
s have flexible boundaries, but can be divided according to products and interests: here's a guide for orienting yourself in the world of
Florentine shopping
.
If you're shopping for l
uxury items
, to buy a special gift (or to treat yourself), head to the area of
via de' Tornabuoni
and via della
Vigna Nuova
.
You'll find the most sophisticated area of
Florence
; with stylish shops in
Renaissance palaces
, it's a mix of the latest
clothing trends
paired with the typical architecture of the city.
Here, it won't be hard to satisfy your desires: pick up an
exclusive clothing item
, a piece of exquisite jewelry or a name-brand accessory.
In short, something will be sure to amaze you.
But don't be alarmed by the hefty price tags; you'll also find more accessible options between the numerous
luxury stores
.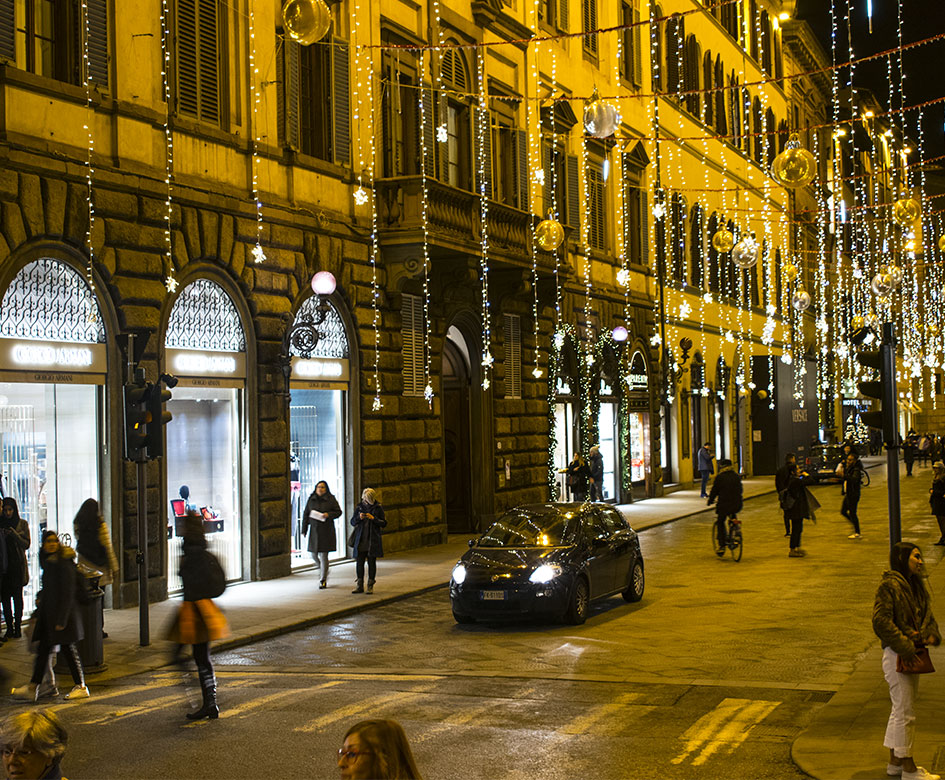 The popular shopping area
Florence's most famous shopping area
is in the heart of the historic center:
via de' Calzaiuoli
,
via Roma
,
Piazza della Repubblica
and the surroundings streets feature stores fit for every need.
From clothing and accessories to
souvenirs
, books and sweets, there's no limit to what you'll find, offering shoppers a large selection of products at a varied price-range.
You'll find
top-of-the-line luxury stores
scattered amongst more affordable shops.
And don't forget the magic of
Florence
: you'll be shopping in the area that for centuries has united the center of religious power with that of the city's political sphere.
The "unconventional" shopping area
Beyond
piazza della Repubblica
, at a crossroads with
via de' Calzaiuoli
, you'll find
via del Corso
.
This narrow street, marked by old medieval towers (former residences of
Florentine noble families
), meanders away from the center and turns into
Borgo degli Albizi
, followed by
via Pietrapiana
, and eventually makes its way to the
Sant'Ambrogio
neighborhood. It's here that you'll find more unique
Florentine shops
(maybe a bit out of the norm) for some more unconventional shopping.
You'll leave 'popular'
Florence
behind as you browse stores selling home goods or handcrafted products,
the perfect gift
for if you're looking for something
out of the ordinary
.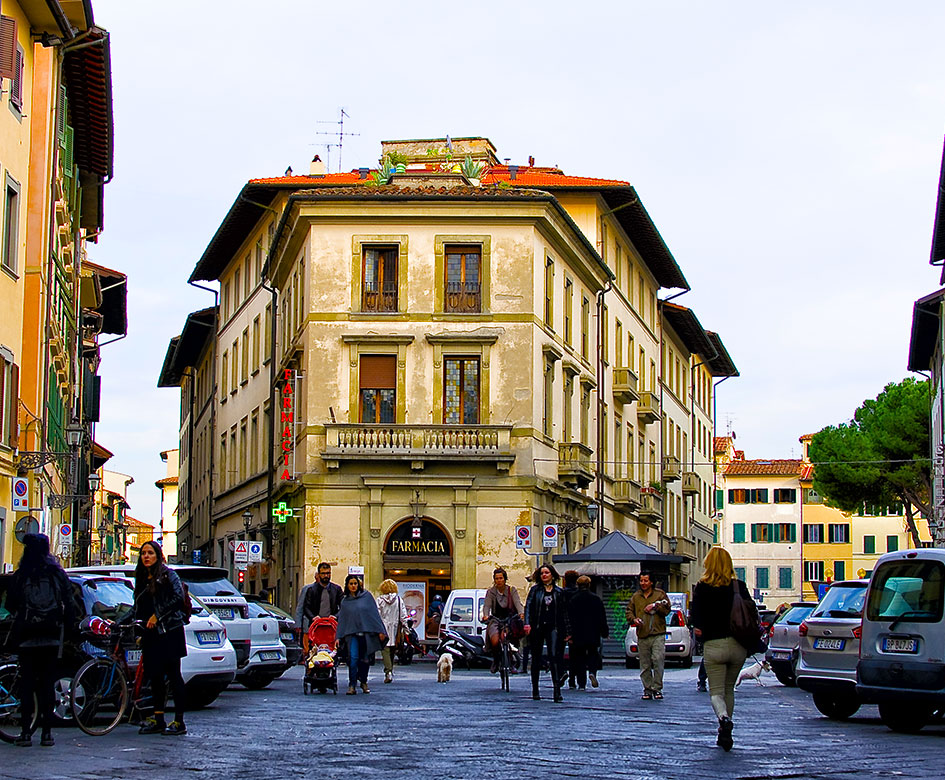 The "Florentine" shopping area
Heading away from
Sant'Ambrogio
, embarking on a scenic walk towards
Porta Beccaria
, you'll find the limit of the historic center – a daring reason to journey onwards.
From the old city door, you'll find a
long avenue
overflowing with shops.
You'll think you're strolling through an outdoor mall, what Florentines know as
via Gioberti
.
A popular area for residents of Florence,
via Gioberti
is
the central thread of the area
; every day it bustles with life as locals do their daily shopping.
The shops are varied in both products and
quality
, but most importantly, they're more manageable for your wallet than other areas.
La "diladdarno" (across the river) shopping area
Not to miss is the
Oltrarno
(the area across the
Arno
river): a m
ust-see
for shoppers in
Florence
.
Between
via Maggio
,
via dei Serragli
and the
San Frediano
and
Santo Spirito
neighborhoods, you'll find more alternative shops scattered in narrow streets, high-demand shops touched by a
bohemian air
.
If you're looking for more
alternative shopping
, this is the place to go.
You'll find stylish and sophisticated jewelers flanked by
artisanal workshops
and
antique shops
, one of the city's
main attractions
.
If you are looking for something a bit
out of the ordinary
, head to the
Oltrarno
.