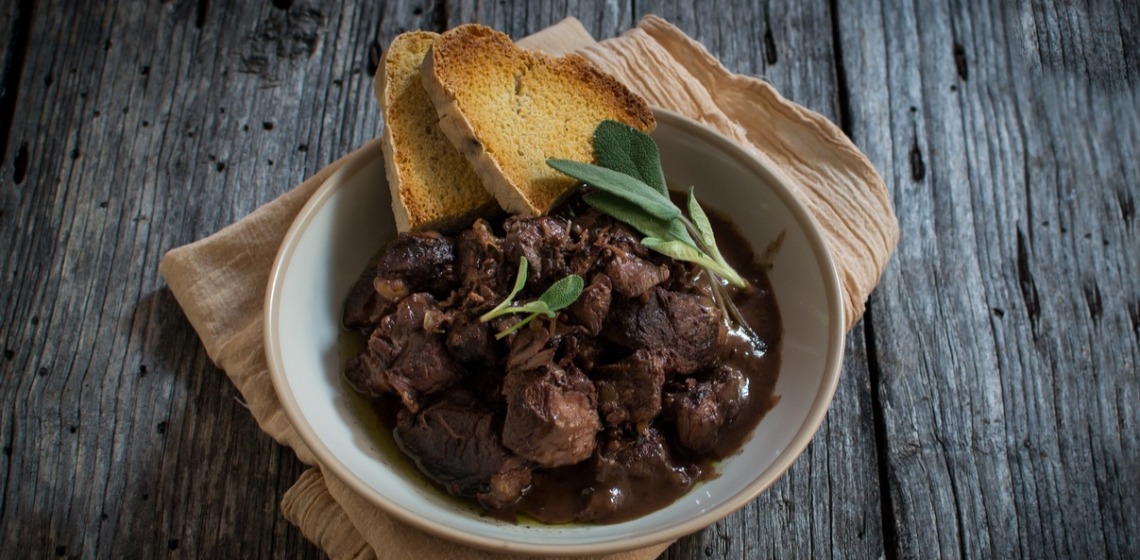 Culinary tour of Florence 6th stage: winter "secondi"
Curiosities and recipes on two Florentine main courses perfect for warming up on winter days: lesso rifatto and peposo.
Our culinary tour continues with an episode dedicated to
winter Florentine cuisine.
Here are two traditional second courses perfect for warming your heart and stomach when it's cold outside. Mouth-watering!
We consulted our
chef Agnese Pugi
(on Instagram with recipes in Italian and English), to choose two winter main courses that best represent Florentine cuisine. Without a doubt, these two Tuscan delights were on the menu:
Francesina or Florentine-style boiled meat
, to continue the saga of Florence and all its ways to avoid wasting food, and the unique and inimitable
peposo alll'imprunetina
, from our neighbors in the municipality.
CURIOSITY
LESSO RIFATTO (FRANCESINA):

like many typical Florentine dishes, lesso rifatto was created in order not to waste any leftovers. In this case, the leftovers of boiled meat were left in the fridge for a couple of days, becoming a bit stringy. This was created as a tasty way to avoid throwing anything away while enjoying a great dish!



PEPOSO ALL'IMPRUNETINA:

the historic Impruneta dish became a registered trademark in 2010. The classification for the preparation of "peposo all'imprunetina", whose trademark is registered at the Trademark and Patent Office of the Florence Chamber of Commerce, is reserved for products obtained in compliance with specified production methods.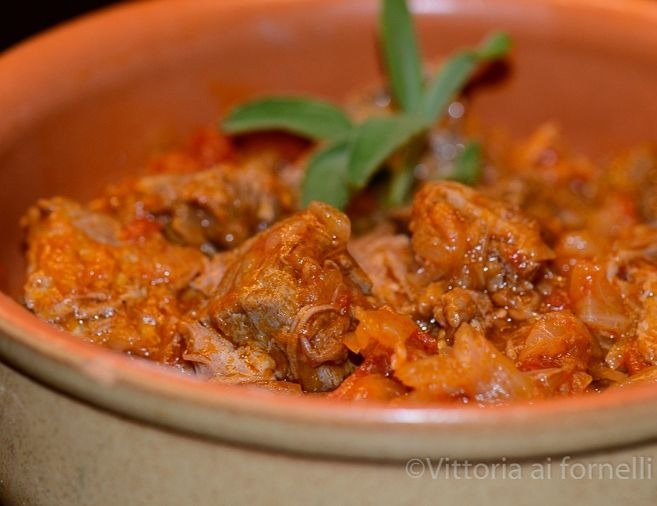 Photo credits: https://blog.giallozafferano.it/vittoriaaifornelli/lesso-rifatto-ricetta-toscana/
The time has come to entrust ourselves to the expert hands of Agnese who has prepared two recipes for us. Put on your apron, roll up your sleeves, make your way to the stove and have your cutlery close by…it's time to warm up in full Florentine style.
Francesina or Florentine-style boiled meat
Serves 4
500 grams of boiled meat
5 large red onions
200 gr of tomato pulp
1 tablespoon of tomato paste
1 teaspoon of sugar
Extra virgin olive oil, salt, pepper
Cut the onions

in half and then into slices and cook them with extra virgin olive oil in a low and wide pan. Cook over medium heat to dry the onions well, if they dry out too much add a little broth or water, it will take about 20 minutes.
Separately,

cut the boiled meat

into small pieces.
When the onions are cooked,

add

the

tomato

pulp

,

sugar

(to counteract the acidity of the tomato) and the

tomato paste

, season to taste and continue cooking for another 20 minutes.
Now

add the meat

and a large ladle of vegetable broth, season with salt and pepper again and

cook for

at least

20 minutes.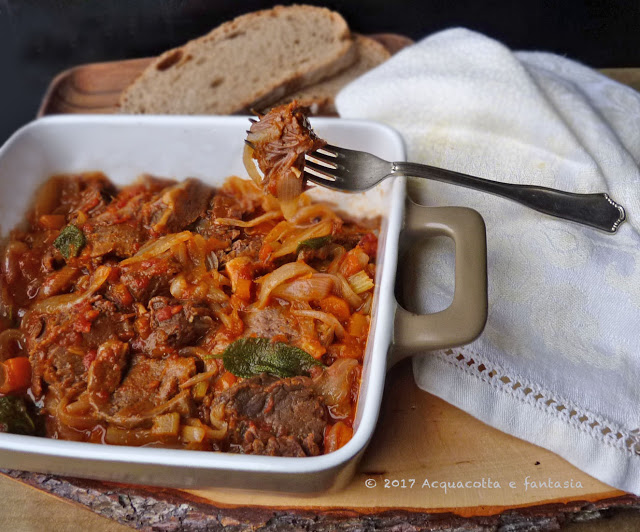 Photo credits: http://acquacottaf.blogspot.com/2018/01/lesso-rifatto-o-francesina.html
Recipe for 4 people
1 kg of beef muscle (for those less familiar with meat and long cooking times I recommend beef cheek)
1 head of garlic
1 bottle of red wine
3 bay leaves
A handful of black peppercorns (if you don't want to have whole peppercorns, replace with plenty of ground black pepper)
Extra virgin olive oil, salt
Cut the meat into cubes

that are not too small (they will shrink a lot during cooking).

Brown them

in a large pot with a drizzle of oil.
When all the pieces of meat are browned,

add

the

salt

, plenty of

pepper

, the peeled

garlic

cloves (add them whole, they will fall apart during cooking), the

bay leaves

and

red wine

to completely cover the meat.
When it starts to boil, lower the heat,

cover and cook

over low heat for at least

2 hours.

When the meat is cooked, remove the lid and let the sauce dry a little.
The peposo is ready when the liquid has withdrawn a little, like a stew.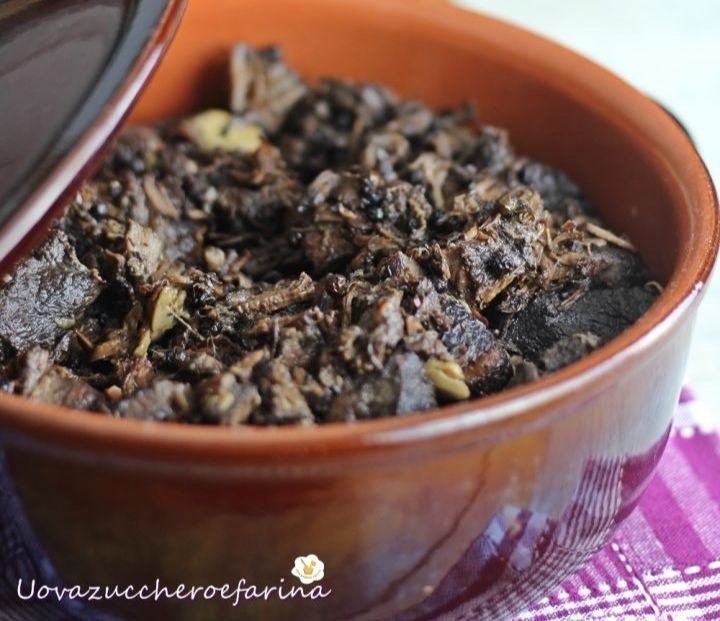 Photo credits: https://blog.giallozafferano.it/uovazuccheroefarina/peposo-dell_impruneta/
Enjoy your meal! Don't miss the other stops on our Florentine culinary tour!