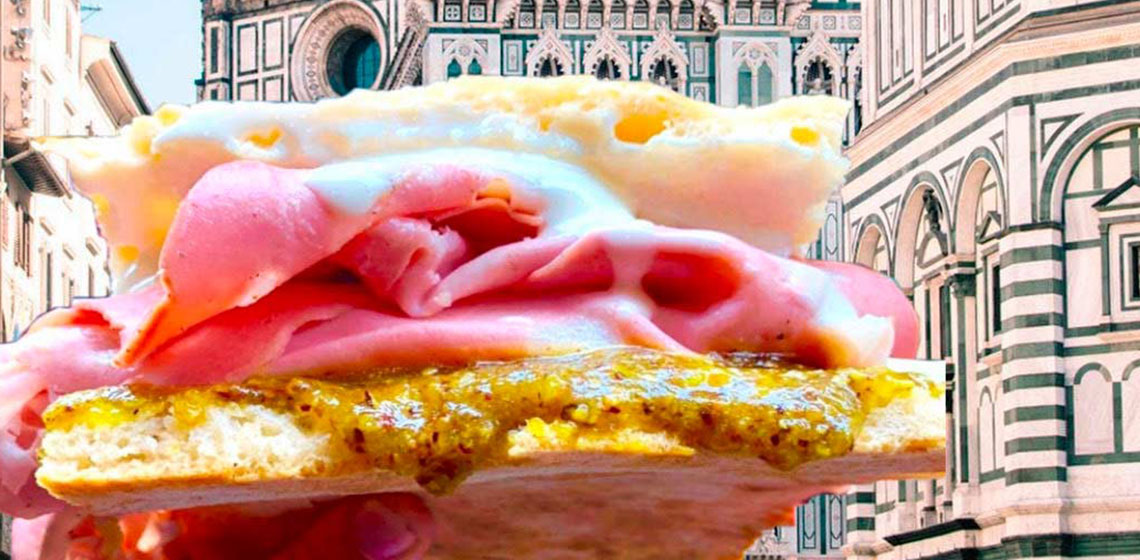 All'Antico Vinaio: the panino that achieved world-wide fame
The Florentine schiacciata that sends sandwich lovers spinning.
Anyone who has taken a stroll through the streets of Florence will be familiar with the sight of a queue weaving from a small
panineria
(sandwich store) towards
piazza della Signoria.
Why do so many choose to wait? Well,
All'Antico Vinaio
(a clever mix of vino and panino, two of the most-loved Tuscan products), have little shops on
via dei Neri
that have somehow managed to acquire world-wide fame. Let us tell you about this well-known foodie top-spot, and no doubt you'll be left ravenously waiting for a bite of one yourselves!
For as long as anyone can remember, the typically Tuscan flatbread
schiacciata
has been enjoyed by many a Florentine and was quickly embraced by tourists and Florence-adoptees who were keen to devour the delicious baked good.
Emerging from this tradition, All'Antico Vinaio was established in
1989
by the
Mazzanti
family, who opened their panino-plus-vino store in a historic wine cellar. Joined by
Tommaso Mazzanti (Tommy)
in 2006, the store was transformed from a likeable sandwich spot to a reference point for the city of Florence and
street food
lovers from all over!
In terms of what it is that makes it so special, you'll just have to try one for yourselves, but we can tell you that the freshly baked bread and
typically Tuscan ingredients
like
tartufo, pecorino and prosciutto crudo
are so satisfying and tasty that you'll very quickly understand!
It has topped most-reviewed restaurants on
TripAdvisor
for years, attesting to its universal appeal. And truly, this is what's the most remarkable point of this story.
All'Antico Vinaio, was even opened in
New York City and Los Angeles
, after two fully sold-out pop-up stores took American customers by storm and led to the opening of a full-time shop at
729 8th Avenue
, New York! The pop-up was held in 2019 at Osteria Otto in Manhattan,
Joe Bastianich
's restaurant (of MasterChef Italy and USA fame), incredibly selling out every single day of its 30-day run. This was also the case in Los Angeles when a two-week event was held inside the Chi Spacca restaurant in West Hollywood, belonging to the famous Nancy Silverton and the Bastianich family.
Italians, of course, have long appreciated the panini, with stores in
Milan, Rome and the I Gigli shopping centre
creating lines of fervent fans throughout the streets. Here in Florence, we can be proud of the original store which still serves up its traditional classics with several new twists in the simple and fun menu that is always best washed down with a serving of
Tuscan red wine.
You'll see people all around the area carrying the unmistakable wrapping of the panini, heads down munching gladly and savouring each morsel. It's almost impossible to walk down the street and not feel the lurch of desire for your own, and more often than not you'll find yourself joining the queue!
Photo header credits: https://www.allanticovinaio.com/