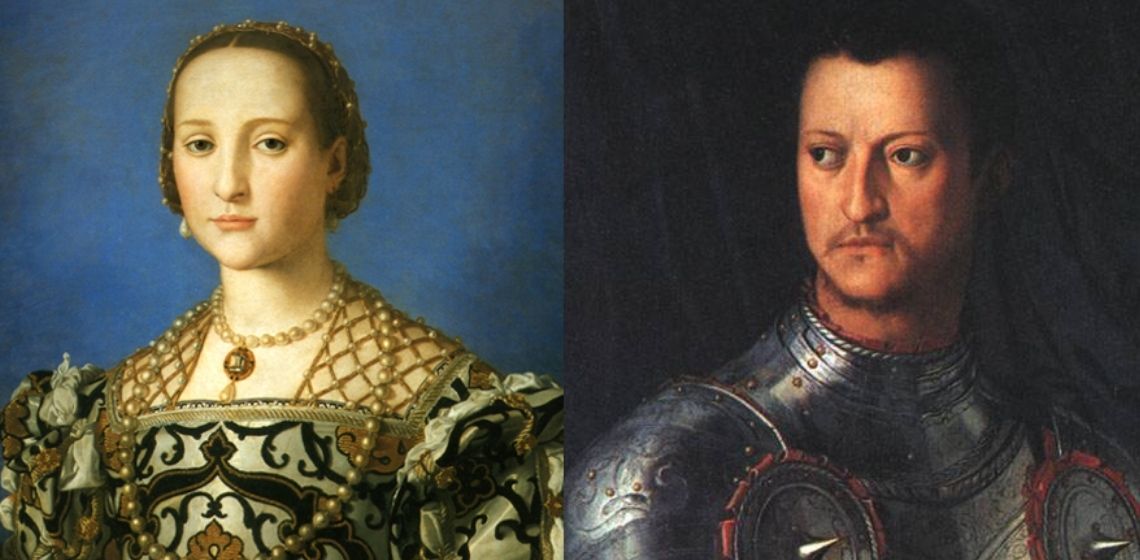 Historical love stories 2: Cosimo I and Eleonora da Toledo
In this month dedicated to love, we delve into the romantic story of the royal couple together with art historian and tour operator, Lucia Montuschi.
For our second dive into
Florentine love stories
, we look at
Cosimo I de 'Medici and Eleonora di Toledo
.
Lucia Montuschi
, art historian and owner of Exclusive Connection tours, tells us about the original
first lady
of Florence.
"
Cosimo I
was a very important member of the Medici family, he took up his role after the Republic had been established and became the first
Grand Duke of Tuscany.
Eleonora da Toledo
, however, was also of an illustrious background. She was the
daughter of Don Pedro
, Viceroy of Naples. She met Cosimo in Naples and he wasted no time in asking for her hand.
Although she was of aristocratic blood and he was a scion without royal blood, the power of the
Medici family
and their strong alliances convinced the great families to support this unusual union.
When Eleonora arrived in Florence, she was welcomed by Maria Salviati at
Palazzo Medici Riccardi
, the family palace at the time. The palace, despite its beauty, was not to the standards meriting the new Grand Duchy of Tuscany, according to Eleonora, so she persuaded her husband to look for a house more suited to their title: Palazzo della Signoria. Cosimo called his trusted
Vasari
and instructed him to renovate it. This is how the newlyweds came to settle in the new
Palazzo Ducale
where Eleonora had her apartments.
Eleonora can be defined as the original Florentine
first lady.
Educated from birth, she closely followed Cosimo as his wife: she had listening rooms to give advice to her husband following meetings, she ate at the table with him, went on horseback, and educated daughters as if they were sons, something that would have been seen as evidence of a
progressive mindset.
When she discovered a 'small' house and 'little' garden for the children on the other side of the river, she independently bought it with her dowry, thus becoming the owner of
Palazzo Pitti and the Boboli Gardens
. Cosimo I was therefore compelled to summon the good Vasari once more and ask him to extend the existing connection from Palazzo Vecchio to the Uffizi Gallery up to Palazzo Pitti. The Vasari corridor was completed in 1565 in time for the wedding of his eldest son, Francesco I, with Giovanna of Austria.
Attentive to the artistic ferment of their city, Eleonora requested that
Bronzino
come to court to depict her with her husband and family while wearing Florentine fabrics and jewels. Theirs can be described as a marriage of convenience, as was the societal norm at the time, but they shared a lot of love. From the moment of their meeting, their relationship was very supportive and filled with respect. A true royal couple, they were the
Kate and William
of the Medici!"
Works and places to visit in Florence
Palazzo della Signoria, Palazzo Pitti and the Medici Villas
The portraits by Bronzino at the Uffizi
The Salone dei 500 and Eleonora's apartments in Palazzo Vecchio
Bargello, fragment of fabric with a pomegranate motif of the same type as Eleonora's dress
Photo credits: www.echianti.it