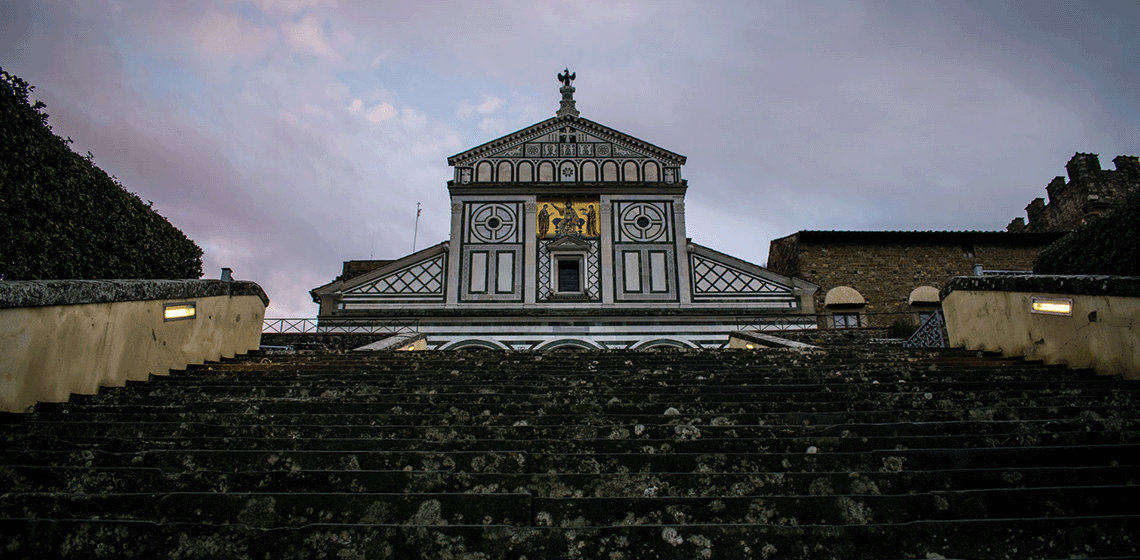 Florence's San Miniato al Monte Abbey
Just above Piazzale Michelangelo lies the Abbey of San Miniato al Monte, a spectacular place of spirituality that houses works by Michelozzo and Luca della Robbia.
Located at
one of the highest places in Florence
, the Basilica of San Miniato al Monte offers an amazing panoramic view of the city that never ceases to enchant, inspire, and take your breath away. A wonderful example of the Romanesque style in Tuscany, the
facade
is divided into three sections decorated with
white and green marble
, forming intriguing geometric designs with a mosaic in the centre depicting
San Miniato, the Virgin and Christ.
Columns line the interior, adorned with classical and Byzantine capitals, while at the centre of the nave you'll find the
Chapel of the Crucifix
by
Michelozzo
. The sacristy also catches your eye, with its frescoes by Spinello Aretino, not forgetting to admire the glazed terracotta vaults by
Luca della Robbia
, and the Chapel of the Cardinal of Portugal. Finish off the visit by stepping into the oldest part of the church, bringing you back in time to the 11th century with the crypt and presbytery that's raised and divided into three naves.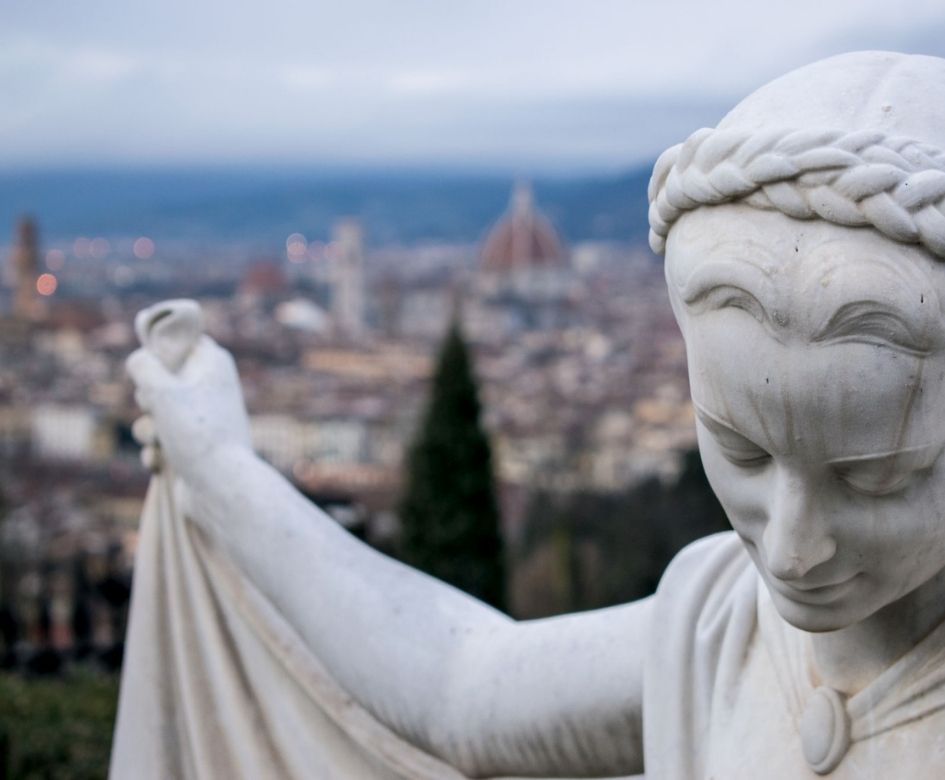 San Miniato al Monte

San Miniato al Monte's millennial in 2018
The church was built on the spot where there was a small oratory dedicated to the
Christian martyr Miniato
, the first martyr of the city. According to legend, San Miniato was beheaded on the banks of the Arno river during the anti-Christian persecutions of the emperor Decius, and with his own head in his hands he went to die at the top of the hill, where an oratory was then built. In 1018, construction began on the stunning Basilica which we can still visit.
In April 2018, celebrations for the
thousand-year-old history of San Miniato al Monte began
, on the occasion of which the Holy Door and the other two doors of the Basilica were restored.
The Marble Zodiac of the Abbey of San Miniato al Monte
In the flooring of the basilica's nave, there's a
centuries-old marble zodiac
that's one of the most important in the world. Made in 1207 as an almost identical model of the one that can be found in the Baptistery of San Giovanni, the zodiac of San Miniato has always been considered an ornamental and symbolic feature. Only in 2011 was an astronomical phenomenon discovered that established it as the
oldest still functioning large-scale solstice sundial in Europe.