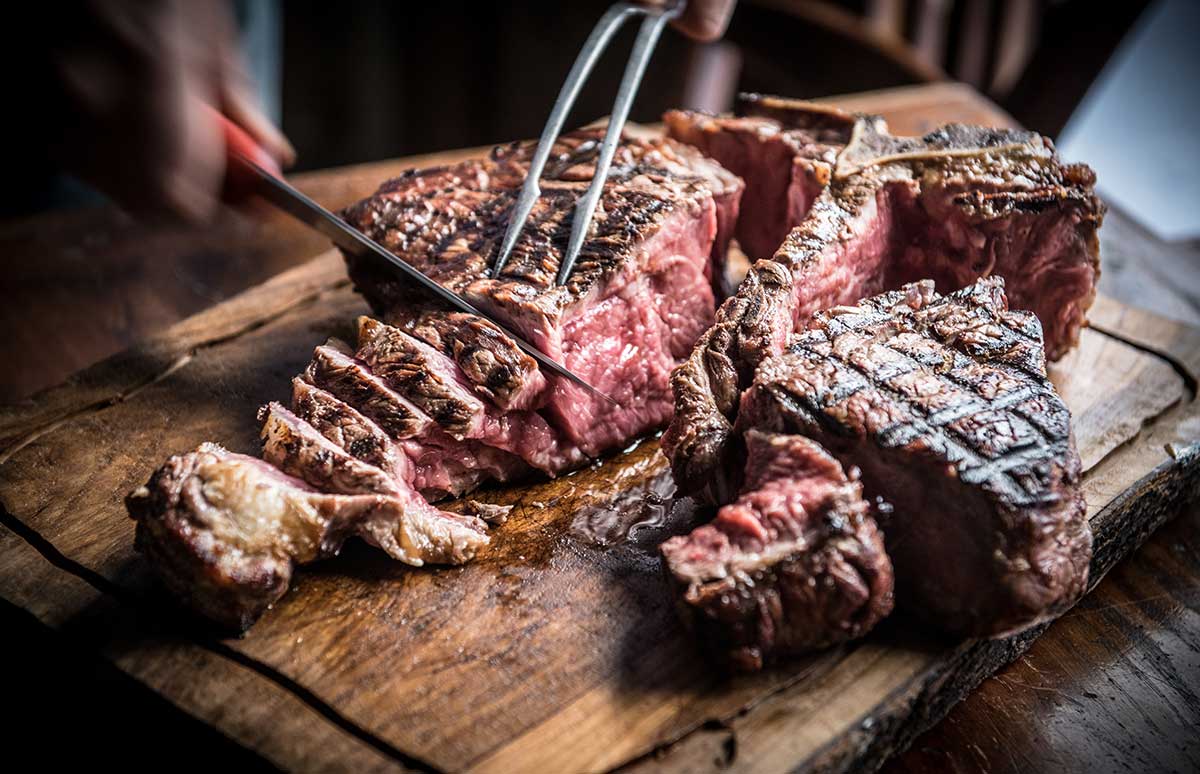 What is Bistecca alla Fiorentina and where to find it
Find out why Florentine steak is so popular, with tips on where to enjoy this typical dish.
You'll have seen it on menus all over the city:
Bistecca alla Fiorentina.
But what exactly is it? A staple in
Tuscan cuisine
, Florentine steak refers to the cut from the loin just below the rib cage (known as bistecca nel filetto) and above the round (bistecca nella costola), typically coming from
Chianina
cattle.
The classic
T-bone shape
is measured in terms of fingers, with a good steak measuring between 3 and 4 fingers high, weighing anything up to 2kg. Given its giant size, one is enough between you and a few friends, with everyone cutting their favourite slice from the shared plate, adding to the experience of a typically Tuscan meal!
Cooked on the grill or on the embers, it's traditionally served
well-browned outside, but rare inside
(ask for anything else and you might get a funny look!) with some preferring to add a bit of rosemary or sage to the obligatory extra virgin olive oil and salt and pepper that brings out the best in the high-quality meat. It's often served with
Tuscan cannellini
beans
cooked with olive oil and a little lemon, and, of course, a glass of good Tuscan
wine!
The name
bistecca
is said to come from the British term "beef-steak", with some sourcing its origins in Florence to 1565, when the daughter of the Duke of Florence was getting married and an entire ox was roasted in piazza San Lorenzo. English guests in attendance are said to have repeatedly shouted "beef-steak!", bringing us to the Italianized
bistecca.
Reading about it making you hungry? Let's have a look at some
restaurants in Florence!
Where to find Bistecca alla Fiorentina
Boccanegra
is a welcoming and rustic spot on via Ghibellina 124, with a menu packed with rich Tuscan flavours that includes Florentine-style steak. The cozy atmosphere keeps you sipping your wine long after your dinner is finished, soaking up the vibes in this centrally-located eatery.
The
Diadema wine bar and restaurant at Relais Villa Olmo
is a treat, both for the delicious dishes as well as the spectacular setting. Exceptional products and organic vegetables are vaunted by this restaurant in the Chianti, with the surrounding hills providing a glorious example of the typically Tuscan countryside. Bistecca alla Fiorentina is offered at lunchtime, with roast potatoes and grilled vegetables giving you a true taste of local flavours.
La Loggia restaurant
at Piazzale Michelangelo is an unforgettable location for a fully-Florentine meal. A breathtaking view of the entire city is laid out before you as you dine on the traditional dish. Spend a serata (evening) admiring the twinkling lights of Florence, with the main monuments visible from the terrace, making sure to toast to your experience.
Photo credits: www.boccanegra.com