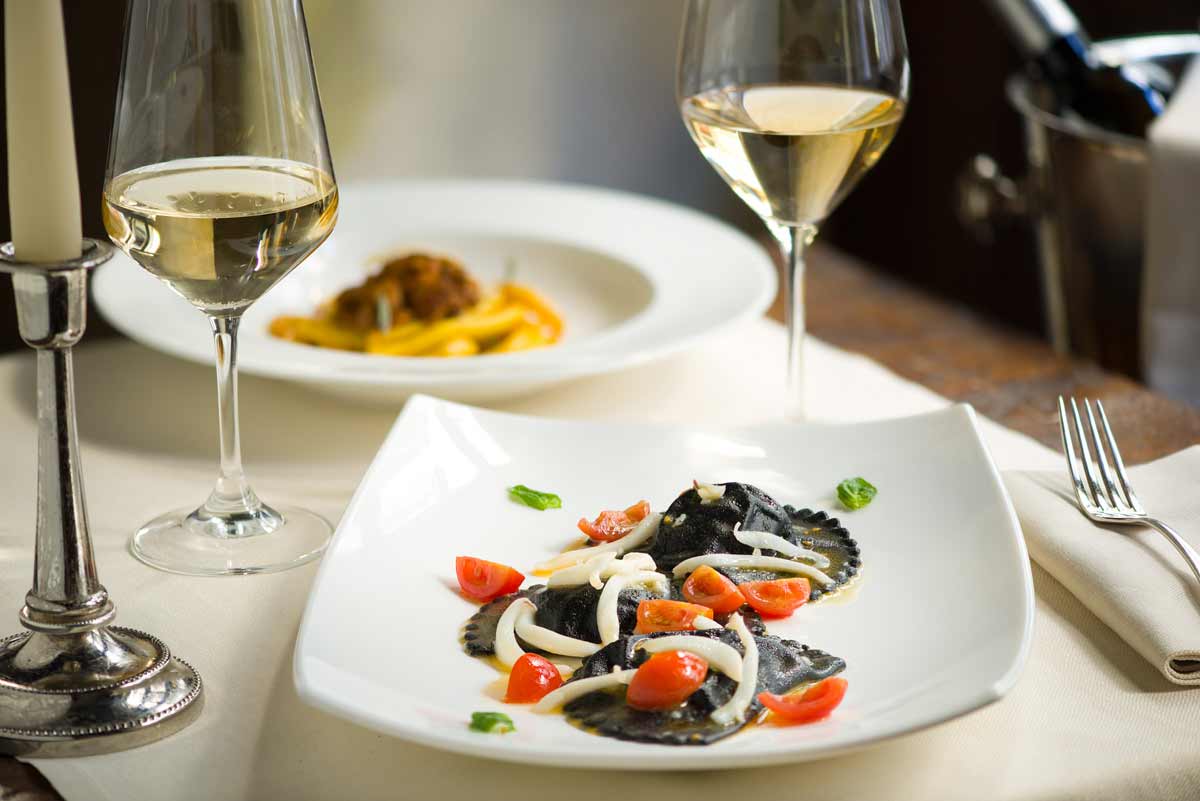 10 romantic restaurants in Florence
Here is a list of some of the most romantic restaurants in Florence with unique views and unparalleled settings.
One of the things to do in Florence is to organize a romantic dinner or evening to celebrate a special occasion. We have selected 10 of the most romantic restaurants in Florence and its surroundings where you can spend a few hours of intense intimacy, a variety of locations that offer refined and rustic settings with a panoramic view of the city.
1. CIBREO RISTORANTE DAL 1979 – Via del Verrocchio 8r
Opened on 8 September 1979, this historic restaurant in the Sant'Ambrogio neighborhood welcomes diners for lunch and dinner with a rustic air of romance and authentic flavors. Like the earth, its seasons and produce, the food is always changing: "In the spring, when the days begin to be longer, we start to dress wild cardoons with lemon, oil and a sprinkling of black pepper; in the summer, tomato sauce became our sea, while we slice dried figs in the autumn to add to our shortcrust pastry and custards. In the winter, we have no fear given that cabbages, garlic and our dips ward off colds and 'flus."
2. LA LOGGIA – Piazzale Michelangelo 1
Since 1867, Ristorante la Loggia has remained a leading restaurant featuring creative Tuscan dishes in an 1800s building with galleries & a rooftop terrace overlooking the city for superb food while savoring one of the best views of Florence. From the height of Piazzale Michelangelo, Florence displays all of its beauty. From the Ancient Roman walls to Fiesole, the panorama is breathtaking and encompasses all the monuments that make up the cradle of the Renaissance.
3.IL PALAGIO - Four Seasons Hotel, Borgo Pinti 99
Boasting one Michelin star since 2011, Il Palagio provides an elegant and exclusive dining experience. Situated in the Palazzo della Gherardesca, the restaurant overlooks the gardens of the same name, where the terrace is an alternative for magical outdoor dining. Expect refined dishes with contemporary twists by executive chef Paolo Lavezzini, originally from Emilia Romagna, with years spent in leading gourmet restaurants in Europe and Brazil.
4. BENEDICTA – Hotel Rivoli, Via Benedetta 12
Indulge in the best of Italian and Tuscan cooking at Ristorante Benedicta (3 Michelin forks) while exploring local flavors and aromas. A warm welcome is guaranteed by maître Luciano and executive chef Filippo, who will make your experience at Benedict even more special with their top cuisine and outstanding service.
5. LE BISTROT – Villa Cora, Viale Machiavelli 18
The menu at Le Bistrot is chosen personally by executive chef Alessandro Liberatore. In the winter, Le Bistrot takes up residence in the stunning Sala Moresca, one of the loveliest rooms in the villa with its oriental style and dome-like ceiling with an original fresco by Antonio Caremmi. In the summer, the restaurant moves to the poolside winter garden, which enables guests to enjoy all the beauty of the gardens in elegant yet informal surroundings.
6. THE TOWER – Antica Torre, Via Tornabuoni 1
Set among the 13th-century turrets surrounded by all the shades and sights of a unique city, The Tower serves up the very best of local produce, from fish freshly caught off the Tuscan coast to Chianina beef and hand-picked saffron as well as dairy products from renowned farms such as Il Palagiaccio.
7. ALLA TORRE DE ROSSI – Borgo San Jacopo, 3
Alla Torre De' Rossi Ristorante Wine Bar is situated in the centuries-old Torre De' Rossi, from which it takes its name due to a unique location and two terraces that provide diners with mesmerizing all-round views of Florence.
8. BOCCANEGRA - Via Ghibellina 124r
Head to this cozy and elegant restaurant in downtown Florence, nestled within the 14th-century Palazzo Salviati-Quaratesi. A fantastic wine list, professional staff and attention to detail make Boccanegra one of the most popular places for a romantic dinner.
9. SESTO ON ARNO – The Westin Excelsior, Piazza Ognissanti 3
SESTO on Arno, Roof Terrace at The Westin Excelsior, is a glass box that looks to the future and all over Florence, the River Arno and the surrounding hills as natural light sweeps in and makes diners beautiful. The wine list includes an impressive selection of fine Italian and international labels.
10. IL CONVENTINO A MARIGNOLLE – Villa Tolomei, Via di S. M. a Marignolle 10
Moving slightly outside the city center, but only a few minutes by car or taxi, Il Conventino a Marignolle is a stylish restaurant with a terrace offering a panoramic view of Florence. Enjoy the traditional Tuscan and Italian specialities reworked in a gourmet style.