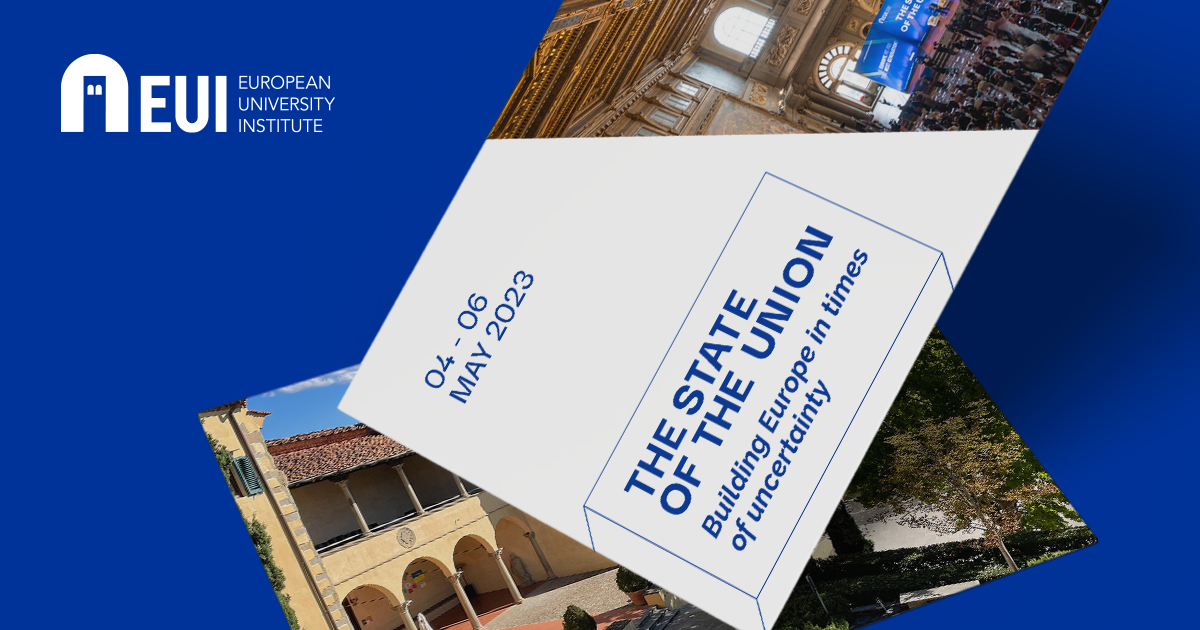 Once again this year, the prestigious European University Institute (IUE) in Florence, founded in 1972 by the original six members of the European Community, and European leader in the social and humanistic sciences, presents The State of the Union, the renowned annual summit for high-level reflection on the European agenda.
The 13th edition of The State of the Union conference will take place in Florence on 4-6 May 2023. Peerless in the quality and breadth of its sessions, The State of the Union gathers leading scientific thinkers, academics, policy makers and journalists from various disciplines for in-depth analysis and discussion on the challenges and opportunities Europe is facing in uncertain times.
#SOU2023's panels, conversations, and addresses will foster reflection on key policy areas including:

Challenges to democracy



Geopolitics and EU priorities
Green transition and energy security
Rethinking the global economic scenario
The digital and tech transition
In cooperation with the local partners, the event will feature networking and social events during the days of the conference.
Speakers will include:

Sergio Mattarella - President of the Italian Republic
Tobias Billstrom - Swedish Minister for Foreign Affairs
Josep Borrell Fontelles - High Representative of the European Union for Foreign Affairs and Security Policy and Vice-President of the European Commission
Frank Elderson - Member of the Executive Board of the European Central Bank
Paolo Gentiloni, Commissioner for Economic Affairs, European Commission
Anabel Gonzalez - Deputy Director General of the World Trade Organisation
Silvia Goulard - Member of the French diplomatic service
Alexander Schallenberg, Federal Minister for European and International Affairs, Republic of Austria
Dubravka Suica - Vice-President for Democracy and Demography in the European Commission
Programme:

4 May

At the Badia Fiesolana, EUI's stunning hilltop hub in

Fiesole.

This first day will centre around an impressive programme of in-person sessions, which will explore the conference themes from an array of academic and policy perspectives. All sessions will be live streamed widely on the SOU and EUI websites.
5 May

SOU will move to

Palazzo Vecchio

, home to the Florence City Council. The morning will be dedicated to high-level conversations with EU leaders, heads of state, prime ministers, diplomats, academics, and journalists from Europe and beyond.

The afternoon will be reserved for SOU4YOU, an interactive talk-show in Italian dedicated to youth and civil society engagement. The event offers activities in the context of a series of initiatives aimed at inspiring young people and European citizens to act as protagonists within the European democratic process at the local and national level.
6 May

the EUI will open the doors and gardens of Villa Salviati, the home of the Historical Archives of the European Union. This day is dedicated to art, culture, and recreational activities and aims to connect the local and European communities by opening the EUI to the public.