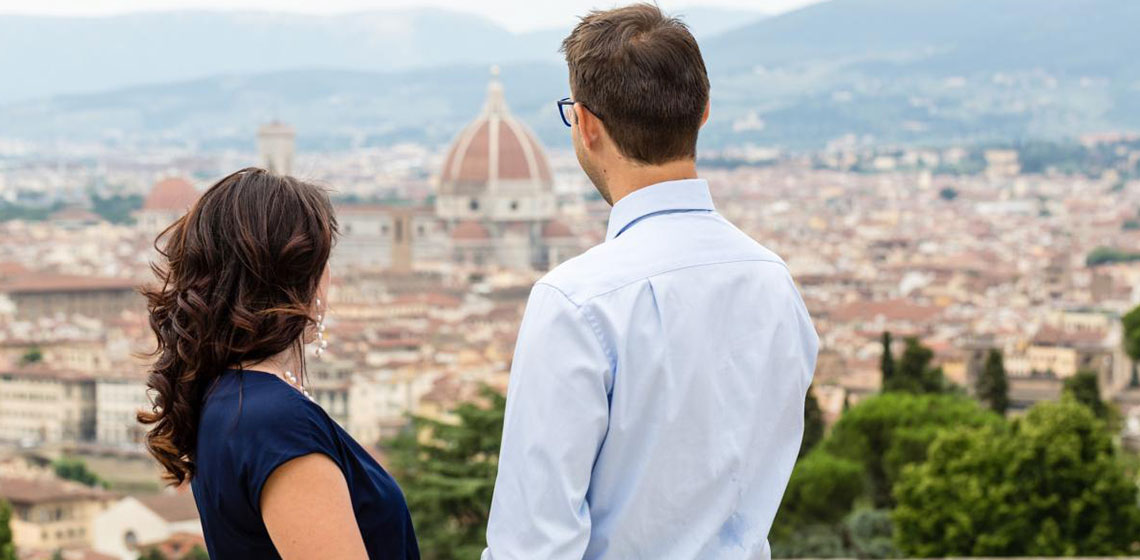 When it comes to
love
,
Florence
is
the best city
there is, offering beautiful views and singular spots to spend unforgettable moments with your special someone.
Here, you'll live experiences to be cherished
forever
– ones that help you rediscover your sentimental side, but that also help couples relax and enjoy the
special day.
Here are some things to do in Florence.
Admire the view from Ponte Santa Trinita
Bridges
are
romantic spots
no matter where you are, but some more than others. And this is certainly the case for
Ponte Santa Trinita
. If you're unfamiliar with its name, this bridge offers the best views of Ponte Vecchio (it'll seem an arm's reach away) and is adorned with beautiful statues. Every day, lover of all kinds stop along the bridge to take in the
breathtaking view
hand in hand.
And don't forget: it's also the
perfect place
for a romantic photo to capture your
special moment
.
Head to piazzale Michelangelo to see the city of lights
There's not much to say about this one: admiring lit-up
Florence
from
piazzale Michelangelo
is an experience that treats your eyes and warms the heart. Hours could pass and you'd never tire, as the view is so beautiful you won't find the words to describe it.
Imagine yourself with your sweet other half, enjoying the lights along the lungarni and brilliant reflections on the city's monuments and the Arno:
a truly unforgettable moment
.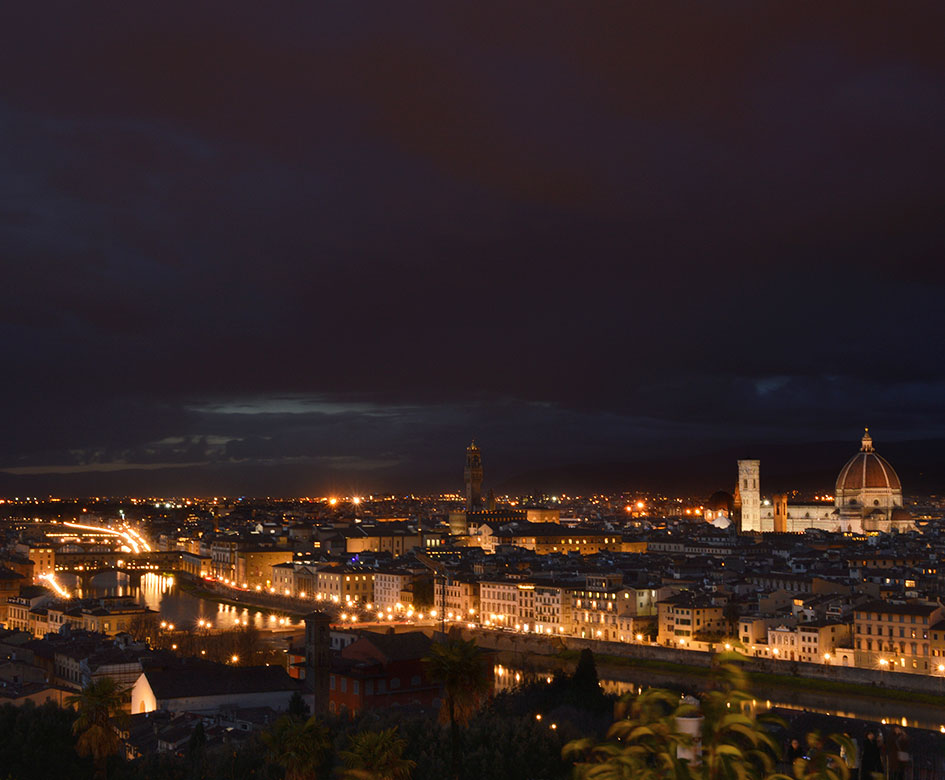 Enjoy dinner in a chic restaurant
Florence
is a
beautiful
and
elegant city
, not only for its architectural marvels and museums, but also for its
restaurants
.
If you're hoping to take advantage of
Valentine's Day
to organize a romantic and gourmet dinner, the city has plenty to offer: you'll find restaurants that combine
traditional Tuscan cuisine
and culinary specialties with innovation, offering unique combinations dashed with
international flavors
– all in incredible and
suggestive locations
.
Discover the places that witnessed timeless love
Florence
has served as the setting for many illustrious
tales of love
.
Who can forget
Dante and Beatrice
, a sweet love that began (or so they say) in the Church of Santa Margherita dei Cerchi (via Santa Margherita)?
Or relive the love story between
Francesco I dei Medici
and his mistress
Bianca Cappello
by visiting her "palazzo" (via Maggio 26) adorned with a "graffito" facade.
Alternatively, find inspiration in the southern hills of Bellosguardo, where
Ugo Foscolo
composed the verses of
"Le Grazie"
, dedicating them to
Quirina Mocenni Magiotti
.
Up in the air, you can also climb to Settignano, a spot linked to the poet
Gabriele D'Annunzio
(in Florence between 1989 and 1909), who enjoyed a love affair with actress
Eleonora Duse
.
Craving some time to relax at the
spa
? This is a must for rekindling
Valentine's Day spice
.
In Florence and its surroundings you'll find a whole range of places to set time aside for pampering: choose between a variety of
special treatments
in one of the area's many spas.
Abandon yourself to the wonders of saunas, massages, steam baths and the most
innovative body care techniques
.
There's so much to choose from, you won't even know where to start.