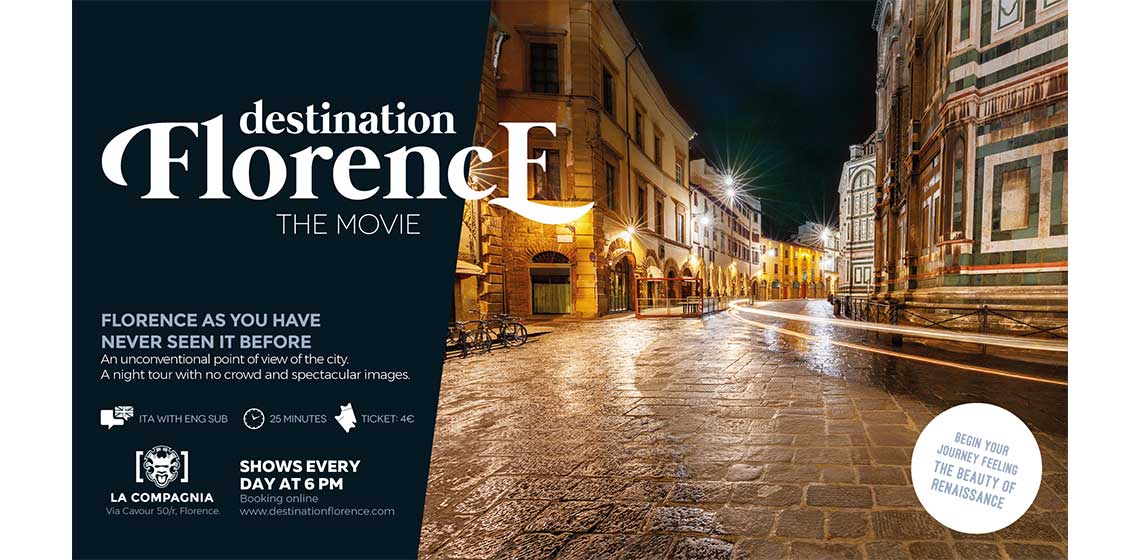 Destination Florence – the Film. Why you should see it
A film about Florence not to be missed, and here's why.
Among the countless
fascinating experiences
that
Florence
offers its visitors, there are a few that offer a different way of seeing the city and its
artistic heritage
.
Among them, you can opt to see the
film Destination Florence
.
Begin your journey feeling the beauty of the Renaissance
. The title speaks for itself: this film is a
full-immersion journey
through the
beauty of the Renaissance
and a new way to fully enjoy
Florence
's many wonders.
Here are the reasons to see it:
New to
Florence
and need some
inspiration
?
Do you know the city well but are yearning to discover more?
Buy your ticket now
, as the film was created with the aim of providing a
full video-guide of Florence
: a never-before-seen view of the city with an educational and emotional approach to exploring its sites. This engaging film inspires and motivates, a tool for tourists to create their own journeys around the city.
A different way to admire masterpieces
Nighttime shots of Florence
present views of the city that visitors rarely get to see. The film offers an almost
one-on-one experience
between its viewer and
Florence's artistic masterpieces
, creating an intimate dialogue between film and spectator.
Through specific camera shots and spectacular scenes, the film manages to convey all the charm of Florence's artistic and
architectural heritage
; like a dream, its singular beauty will blow you away.
An evocative location for a captivating project
Cinema la Compagnia
, founded in 2016, is an initiative dedicated to
documentary
and
audiovisual culture
. This technologically advanced space focuses on younger and international populations, contemporary art, workshops and idea-exchange.
Originally a cinema (built in 1921) transformed into a theater (in 1987), today
La Compagnia
is an
innovative space
for the city's seventh art.
Don't miss a chance to enjoy this striking film in one the theater's
463 plush seats
.
Head to the Uffizi or the Accademia on a Monday
Want to see the
Uffizi Gallery
or the
Galleria dell'Accademia
on a Monday?
Now you can, with
Destination Florence
.
Begin your journey feeling the beauty of the Renaissance
.
Keep in mind that the film is in
Italian
with
English subtitles
, though
audio-guides
are also available for
French
,
Spanish
and
Japanese
.
Check out the film program and book your ticket now.