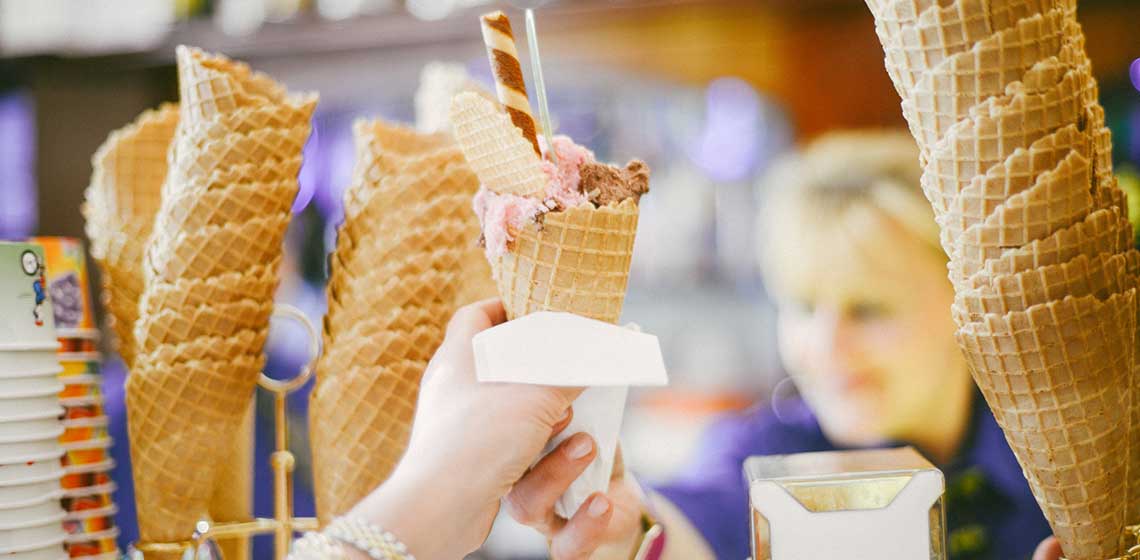 Gelato in Florence: a long history
Gelato: A history of the world's favorite dessert and traditionally authentic gelaterias in Florence.
The sweetest
treat there ever was is surely a favorite in
Florence
; folks worldwide flock to the Renaissance city for its pristine art, outstanding architecture and above all, the lip-smacking
gelato
. And unbeknownst to many, this
delicious dessert
is said to have
originated in Florence
, making the city one of
the best in the world
for savoring the tasty treat.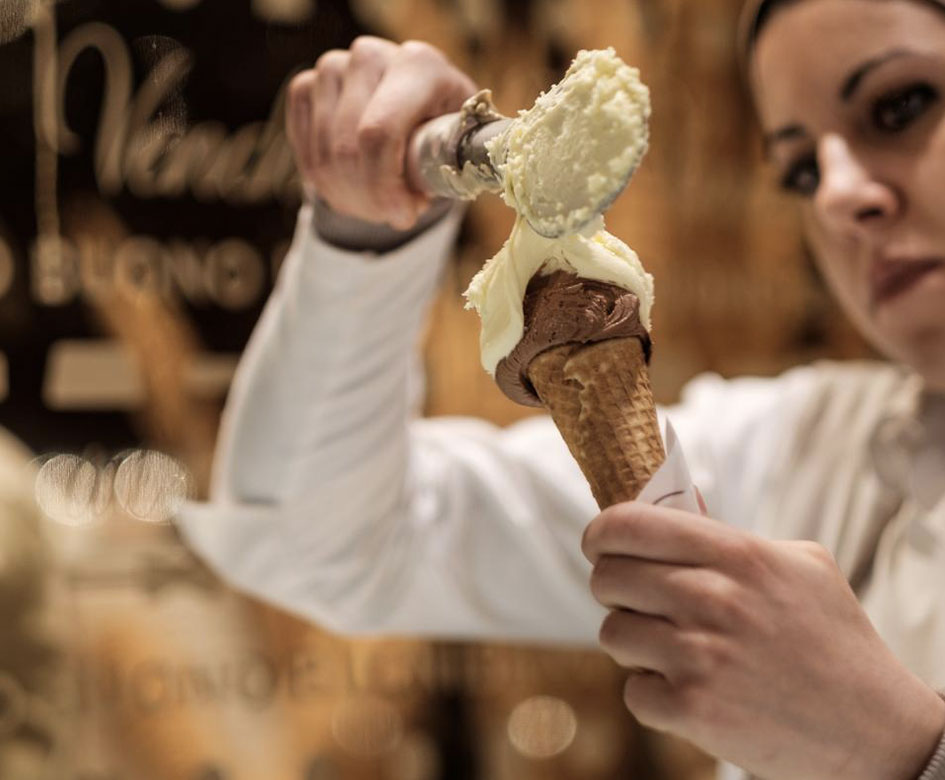 Tracing the
first gelato
is quite a feat: records of frozen desserts similar to today's gelato date as far as
12,000 years ago
in ancient Mesopotamia.
The history of the treat has been tracked to ancient
Chinese and Arab cultures
; in fact, the word sorbet derives from the Arabic word
scherbet
, meaning '
sweet snow.
'
Yet besides its age-old origins,
the gelato
we love today only
dates
to the
Italian Renaissance
: alchemist
Cosimo Ruggieri
(d. 1615) is credited for having created
the first-ever gelato
(
fior di latte
) at the court of Catherine de' Medici, or so the story goes.
Other sources credit mannerist architect
Bernardo Buontalenti
for the
invention of gelato alla crema
, the popular egg cream flavor whose recipe (
crema Buontalenti
) was supposedly circulating
since 1565
.
And the beloved dessert became
an international
sensation when
Sicilian Francesco Procopio Cutò
made his way to Paris with a gelato-making machine in 1686. Regardless of its official birthdate, the modern version of the frozen treat has Florence to thank for its launch.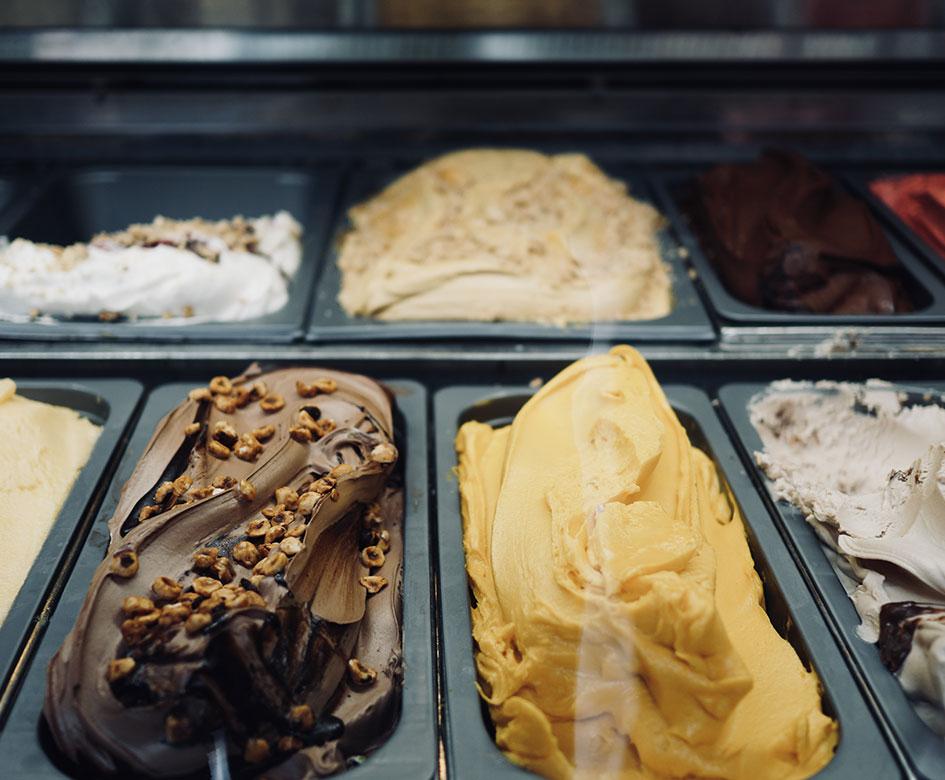 "
What's the difference
?" is probably one of
the most-asked questions
by tourists in Florence.
Although
gelato
is simply
the Italian word for ice cream
, the two frozen desserts do technically bare a few differences.
Compared to the classic American-style ice cream, gelato differs from ice cream in four main areas: fat, sugar, air content and temperature.
Gelato
uses more milk than cream and thus
lower quantities of fat
(law requirements state that gelato must have at least 3.5% butterfat while American ice cream often contains about 10%).
Gelato is also churned at a much slower speed than ice cream, which introduces less air into the base and creates a dense, flavor-packed consistency. Moreover, while many American ice creams are sweetened with artificial sweeteners, the natural sugar used in gelato allows for the creation of smaller ice crystals, adding to its
smooth and creamy texture
.
The differences are slight and differ between ice-cream makers, though
gelato
is usually stored at warmer temperatures to guarantee a softer consistency. Yes, the two are technically the same dessert, but it's the little things that make a world of
difference
. And so the question remains: what goes into making a
traditionally authentic gelato
?
It's simple: milk, cream, sugar and a little flavor, if desired.
Enough backstory, its
time to eat
!
Around Florence, the gelato options are plenty, but be wary of sky-high piles of brightly-colored gelati: there are loads of places serving ice cream around Florence, but not everyone follows traditional recipes.
For one of the
best spots
in town, head south of the river to
Gelateria La Carraia
(
piazza Nazario Sauro, 25/r
), where you'll find
flavor-packed gelato with a creamy texture
.
This famous gelateria is renowned for its
light and fluffy consistency
, and you'll be sure the gelato is made following the
centuries-old recipe
– no modern tricks involved.
Carapina
(
piazza Guglielmo Oberdan, 2r
), another favorite that follows
traditional gelato-making methods
, has introduced noteworthy new flavors throughout the years, such as one made of
milk, cream and peppermint
.
Head to
Gelateria dei Neri
(
via dei Neri, 9
) for another hub with a wide selection of
delicious flavors
whipped up in a
dense and creamy gelato
: here, you can try the likes of
pistachio and caramel
mixed with
unusual flavors
like
black sesame and ricotta and fig
.
Don't miss
Gelateria Edoardo
(
piazza del Duomo, 45r
) in the heart of Florence, known for its
Bio gelato
made using only
natural products
without added ingredients and preservatives.
And lastly, check out
Perchè No!
(v
ia dei Tavolini, 19r
), a gelateria around
since 1939
boasting
traditional recipes
and the
highest quality ingredients
, such as
'Slow Food' Bronte pistachios
,
cardamom from Ixcán
, Guatemala and
vanilla from Madagascar
.
The last three of these gelato shops also offer
vegan options.
For an intense flavor and a creamy ice cream with an authentic taste, truly mouth-watering, try the two ice cream shops in the Oltrarno squares:
Artisan Gelato - La Sorbetteria
, in
Piazza Torquato Tasso, 11r
, and the
Gelateria della Passera
in
Via Toscanella, 15 / red
.
You won't regret it!