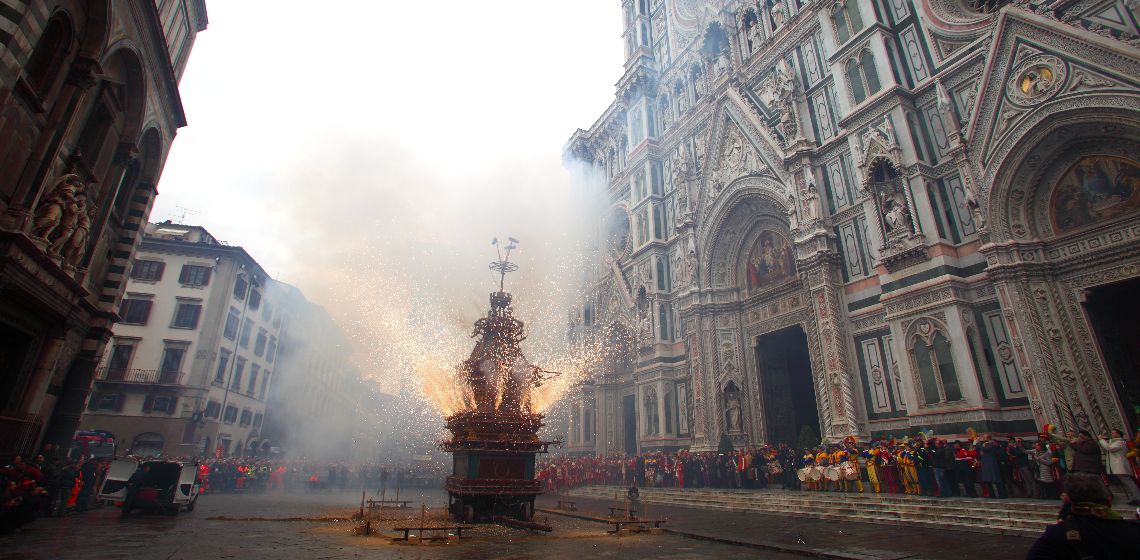 If you are looking for a place to spend
Easter holidays
in
Italy
,
Florence
is perfect!
A beautiful city where you can enjoy a break from the daily grind.
Then remember that you can choose among
art
,
culture
,
events
,
traditions
,
food and wine
or
shopping
in the center.
How it looks a
perfect Easter Day in Florence
from morning till night?
First of all wake up in a such important day and in a such important city sounds really exciting and the day is proclaimed to be
full of emotions
!
H. 08.00 AM
-
Wake up
early to enjoy the first walk in the city center, not yet crowded with people and enjoy a nice breakfast at one of the
historic bars
, facing some important square.
Ready for the fireworks show?
H. 10.00 AM
- The
procession
of the cart, also known as "Il Brindellone" for its pyrotechnic tower,
starts. The cart is pulled by six oxen accompanied with a costume parade.
The departure is from
Il Prato
street and arrives in
Duomo Square
, in the space that lies between the
Baptistery
and the
Cathedral
.
The cart is pulled by six oxen accompanied with a costume parade.
Take your place along the way and watch the procession.
H. 11.00 AM
– Ready for the firework!
When the "
Gloria
" is sung inside the church, the Archbishop uses the fire to light a dove–shaped rocket (called the "
Colombina
" and symbolizing the
Holy Spirit
).
The "C
olumbina
" collides with the Cart in the square, setting off a
spectacular firework
!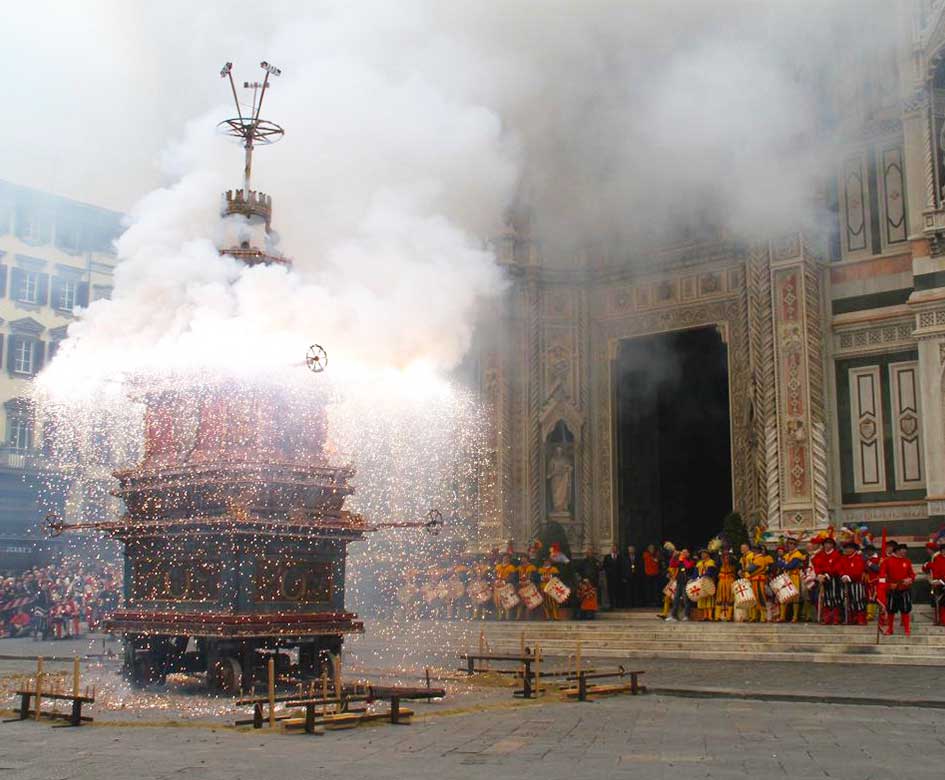 H. 1.00 PM
- After the show it's time to had
lunch and relax
. You can eat in one of the
typical florentine restaurant
and prepare yourself for the an afternoon full of art and culture.
You can choose between
traditional
and
tasty food
or something like modern dishes.
H. 3.00 PM
– Now you are ready for the afternoon because the
museums are opened
and also some shops in the centre of the city.
You can visit the famous
Boboli Gardens
and the most exclusive
Bardini Garden
. Both offer a relaxing walk, surrounded by the
scent of flowers
.
Take your time and enjoy the visit!
H. 7.00 PM
- It's time for d
inner
!
Get a refreshing shower at the hotel and then ready for the evening: what about a drink in one of the many shops in the centre, perhaps an
amazing cocktail
on one of the
rooftop terraces
so you can admire the city.
For the restaurant remember to
book in advance
, you can choose a traditional or a gourmet dinner.
The choice is yours!
H. 10.00 PM
- After the dinner, take a
nice walk
along the river and enjoy the
unique atmosphere
of the
Florentine nights
!
Destination Florence Plus
Staying in Florence has never been so advantageous: hotels, tours and experiences at once-off prices until 12/31/2022. What are you waiting for? Make the most of our promotional campaign and treat yourself to Florence as you've never seen it before.