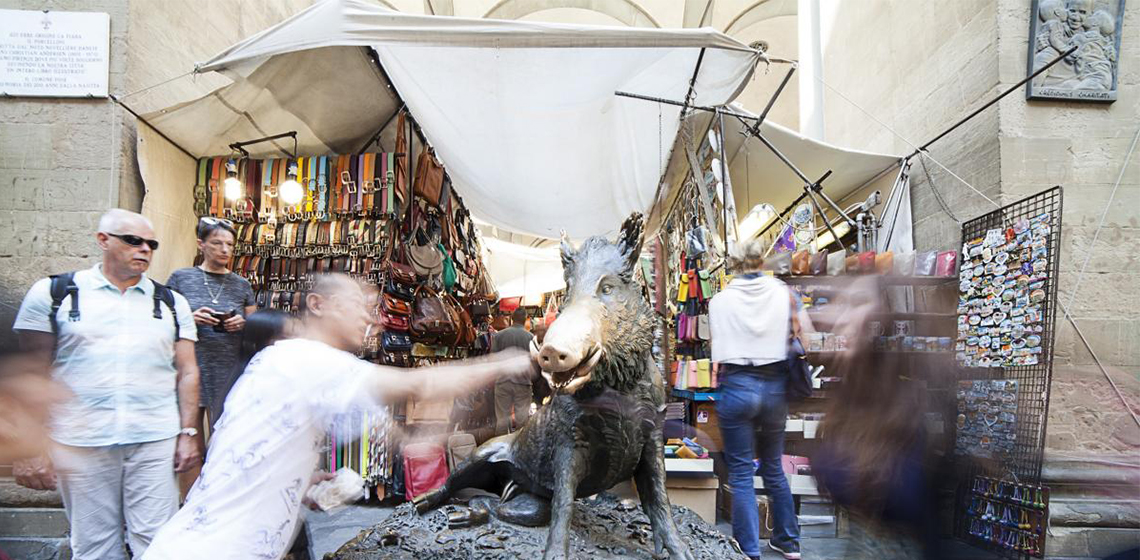 What's the real story about the Porcellino statue?
Chances are you've heard of it but don't know the backstory: here's everything you need to know about Il Porcellino in Piazza del Mercato Nuovo
Ask any Florentine where "Il Porcellino" is and they'll reply without hesitation: "in Piazza del Mercato Nuovo". And they are right of course, the bronze boar stands a short distance from Piazza della Signoria and the Ponte Vecchio, a curious tourist attraction that everyone likes to stroke!
The poor boar's nose is worn out from all the patting by people wanting to cash in on the statue's luck. But what's it really all about?
The good luck ritual (the real ritual!)
Tradition has it that it's good luck to touch the statue's nose, so every day hundreds of people give the boar a stroke hopeful that some of the good fortune will brush off on them. But hardly anyone knows the full ritual: while rubbing the nose with one hand you should hold a coin in the animal's open mouth and let it drop there. If the coin falls through the grating, it's good luck "guaranteed". If not, you should try again.
Like many other famous pieces of art scattered around Florence, the statue is actually a copy. The original is found in the rooms of the Bardini Museum, a bronze fountain made in the first half of the 1600s by a pupil of Giambologna Pietro Tacca, a commission of Cosimo II de' Medici.
Although we all call it "Il Porcellino", the fountain is actually a wild boar (look closely and you'll agree!) and it was placed in that spot for practical reasons. The loggias of Piazza del Mercato Nuovo were a marketplace for bartering and trading among fine cloth merchants and they needed the water to wash themselves and to drink.
"Il Porcellino" is famous all over the world. In fact, copies of the statues are dotted around the globe, such as in the gardens of Belgium's Enghien Castle and in Place Richelme in Aix-en-Provence, France. Munich boasts two copies!
There's even a reproduction in Sydney, Australia, opposite the hospital. It was donated by Florentine noblewoman Marchesa Fiaschi Torrigiani, who pledged the statue to the hospital in 1968 in memory of Piero Fiaschi, an Italian doctor working in Australia. Sydneysiders also believe that stroking the boar's nose brings good luck, just like the real statue, and their ritual brings tangible benefits: the coins go to the hospital.