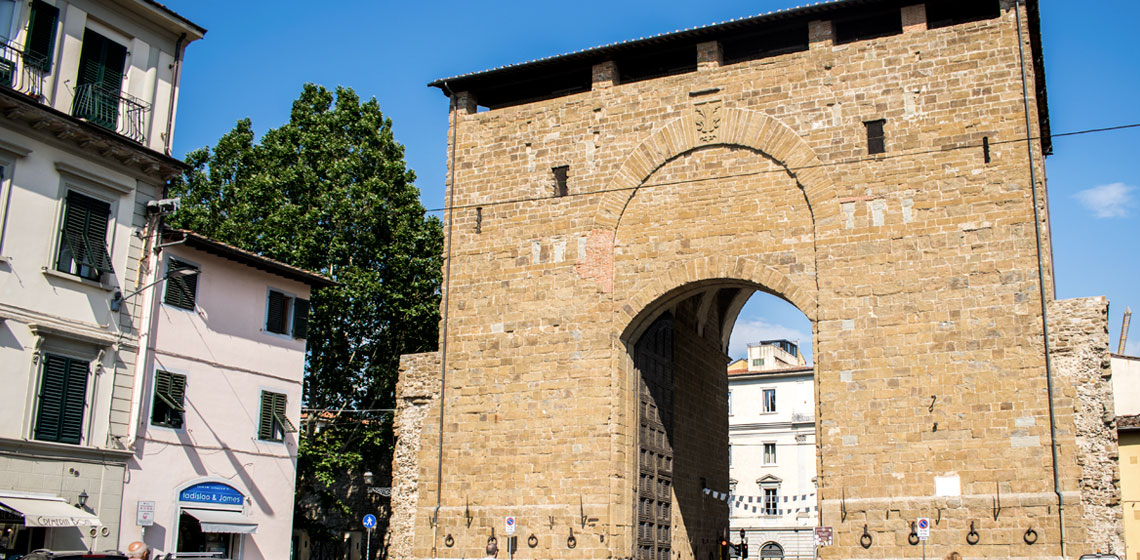 Taking it slow in San Frediano
The coolest neighborhood in Florence.
Long the stomping grounds of artisans and bootstrapping workers, San Frediano is the eclectic southwest portion of the Oltrarno neighborhood in Florence.
Its exact geography can be nebulous, but via dei Serragli is its generally-agreed-upon eastern border, while the Porta San Frediano, the "gateway to Pisa", is its western entry point.

One of the area's main drags, Borgo San Frediano, was named by Lonely Planet as one of the world's coolest neighborhoods to explore just last year, and the excitement around that designation still permeates the district. But with its concentration of artisan studios and its seamless combination of trends and traditions, San Frediano and its people hardly need guidebook approval to know their neighborhood is ganzo (Tuscan slang for "cool").
Although San Frediano is famous and packs on the charm at every turn, it's generally not a stop for first-time tourists here for a few hours. If what you're seeking is a slower, less visitor-saturated section of Florence, teeming with trattorie, bars, boutiques and more—plus artistic treasures off the usual "top five" list—you'll find it all here.
Crossing over the Ponte alla Carraia from piazza Goldoni will take you right into the heart of the district. Veer right on Borgo San Frediano—that Lonely Planet "hip strip"—but first make a quick left into piazza del Carmine to pop in to the Brancacci Chapel in the Church of Santa Maria del Carmine, best known for its Masaccio frescoes, namely the Tribute Money and the Expulsion from Eden. (You're in Florence, after all: don't skip out on this neighborhood's top artistic attraction).
Wander east down via Santa Monaca and you'll land on the border-stretch of via dei Serragli, home to vintage and antique shops, cafes and curiosities. Circle back to the beginning of Borgo San Frediano and you'll have a host of restaurants and eateries to choose from come dining time. Ahead are a few of our favorites.
Two stops in particular on Borgo San Frediano vaunt that inimitable mix of Tuscan know-how and international innovation.
Pre-dinner, consider opting for "Tuscan-style tapas" at Gesto, a spot known for its super-social atmosphere and snack-size portions, great for ordering a few dishes and divvying them up with friends; you'll find some "remixed" Tuscan specialties as well as fare from beyond the Boot.
For something more familial and less fashion-y come dinner time, perhaps try cozy PassaGuai, where Florentine and Tuscan favorites come served with new spins, courtesy of the young chef.
Further down the same road, closer to the Porta San Frediano, you'll come upon B.O.R.G.O., a solid option if it's classic Tuscan you're craving. This no-frills spot has no cover charge and prides itself on using the finest fresh ingredients from around the local and regional territory. But just to mix things up a bit, their menu isn't divided into the standard antipasti, primi and secondi categories: here you can "have it your way", but with top-shelf ingredients exclusively.
Venture just a smidgen further off the beaten path and you'll come to La Bocca di Leone at the beginning of via Pisana: it's atmospheric and a delight for date night, though without the price tags of some similar spots more "downtown". The seasonal menu includes IGP Chianina dishes and other regional delicacies worth savoring with a loved one.
Wherever your wanders may take you in San Frediano, be sure to leave time to slow down and savor the experience. Hurrying and worrying have no place here!