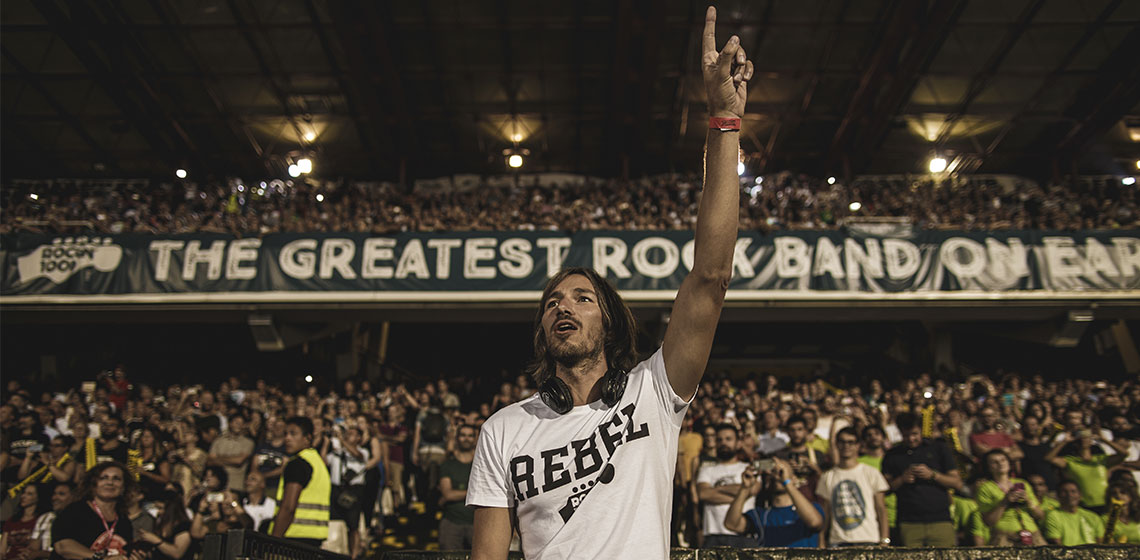 Whether you're a bona-fide rock roadie type or just a casual concertgoer, there's one music event this summer in Florence that's an absolute must: the
Rockin' 1000
That's Live 2018
. Expect a "full-blast" experience, to put it mildly: around
1600 musicians
from Italy and far beyond will come together to perform classics from global rock radio. But how did it all begin?
You may recognize the Rockin' 1000 general manager
Fabio Zaffagnini
(pictured above) from a certain viral video that came out of Cesena, in Emilia-Romagna, several years back. Until July 2015, Fabio was just another avid music fan eager to bring one of his favorite bands—the
Foo Fighters
—to his humble hometown. "It was a joke at first," he says. "I wanted to have the Foo Fighters come to my hometown, but there's no way they would have come without a special invitation."
But with a passionate mindset and a pinch of madness, he dreamed up the idea of creating
the largest-scale tribute to any rock band ever achieved
, inviting 1000 people to play the Foo Fighters' hit song "Learn to Fly" together in one spot and ending the video with a formal plea to the group to come to Cesena.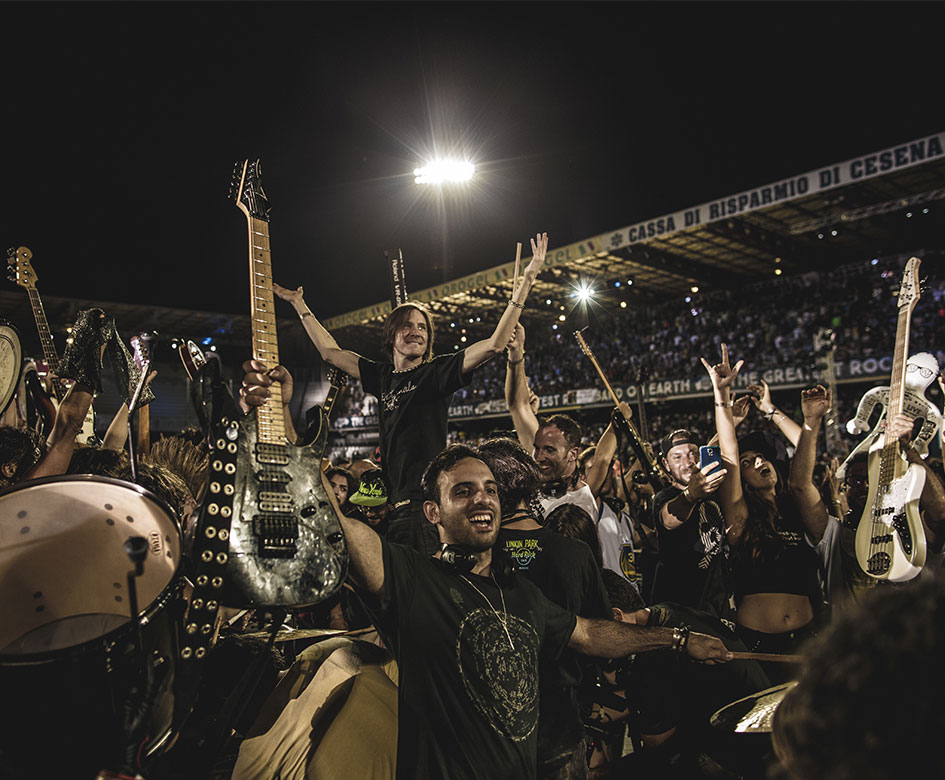 The video, which took a full year of effort and organization, not to mention plenty of pro bono work, went off-the-charts viral, reaching
44 million views on YouTube
—and eventually reaching the Foo Fighters themselves. Frontman Dave Grohl responded with a video of his own and within a few months, a concert for Cesena.
These days Fabio's not in the business of recruiting bands, but he moves forward with his love for music and his mission to demonstrate how ordinary people can make a difference, seen in the "dreamer" spirit of the Rockin' 1000. He puts together concerts—which keep getting bigger and will soon culminate with a
1,600-member lineup
at the July 21 show at Franchi Stadium in Florence
. "We involve musicians of all levels, from newbies to professionals; most of these people perform in pubs or sing under the shower, but everybody wants to be a rock star. Maybe they couldn't make it to that level on their own, but when they all join together, they can fill up stadiums."
The wall of sound, Fabio says, is what will make this Florence concert particularly unforgettable. "You have to imagine 1600 people—that means 400 guitars, 300 drums, 300 bass players...We don't even need a PA system; musicians bring their own amps and that is enough to make the earth shake!"
We probed him for further details on the Rockin' 1000 story and the Florentine concert to come.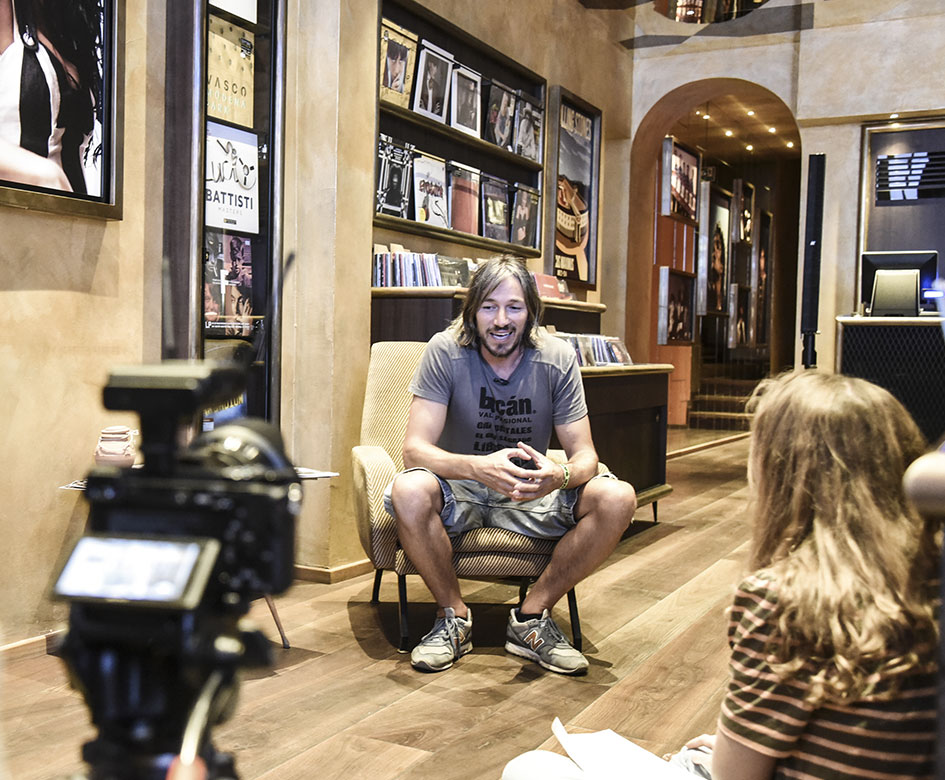 How has your everyday life changed since the runaway viral success of the "Learn to Fly" video?
It has changed a lot! First of all, I quit my job, and I decided to dedicate almost all my time to making Rockin'1000 grow. I wake up every morning thinking about it, I struggle all day to keep up with all my commitments! And go to sleep still thinking about it...not a big deal huh? Truth is, Rockin'1000 is more than a job, it's like a mission, it's about carrying on a massage that goes beyond music.
After such an extraordinary, emotionally gripping production, do you now feel pressure to come up with the "next big thing?"
Of course I do, the community of musicians, our followers, they are always waiting for something bigger, and we try to meet their expectations. God only knows where all this will lead us!
Why Florence for your next destination?
Florence is a big city for the arts; it's very easy to reach and has great tourist accommodation services. In recent years, the rock scene has grown, and big events have been organized. It is just a perfect location for us.
How did Courtney Love get involved with the group? Can you give us any insider information about her participation in the July 21 event?
We strongly wanted to perform together with a big rock star, an icon. We were put in touch with her by the
Only the Brave Foundation
, which has been involved in a charity partnership with the rehab community of San Patrignano. Courtney accepted almost immediately, probably intrigued by the idea of performing surrounded by so many musicians. No one has ever done anything like this before, and we are so excited!
Are most of the original musicians who participated in the first video still performing with the group, or has the lineup changed dramatically?
Half and half. Some are returning musicians, some are new. Rockin'1000 is now a community of thousands and thousands of musicians from all over the world. Every time we launch a new event, the first ones who declare their availability attend our events; the others are added to a waiting list. It's all about being fast!
Can you give us a small preview of the set list in Florence?
Sure! We are going to play (not in this order):
Don't Look Back in Anger
by Oasis;
Uptown Funk
by Mark Ronson & Bruno Mars;
Numb
by Linkin Park;
Shoot to Thrill
by AC/DC;
Killing in The Name
by Rage Against the Machine;
Learn to Fly
by the Foo Fighters;
Sympathy for the Devil and Hush
by The Rolling Stones; a Deep Purple medley;
Won't get Fooled Again
by The Who;
Where is My Mind?
by The Pixies;
Born to Run
by Bruce Springsteen;
Smells Like Teen Spirit
by Nirvana;
Blitzkrieg Bop
by Ramones;
Celebrity Skin and Malibu
by Hole; and
Hard to Handle
by Otis Redding.
Besides Dave Grohl and the Foo Fighters, who are some musicians that inspire you, or
some albums that changed your life?
Tough question. I tend to divide the bands I love in categories, depending on which part of my body they touch. Led Zeppelin, Nirvana, or AC/DC, for example, they touch my guts, The Beatles, Neil Young and Vinicius de Moraes touch my heart. Bob Dylan and Jimi Hendrix touch my mind.
I don't know if there are albums that changed my life, probably the albums that my dad used to listen to when he was chilling in the living room : The Jimi Hendrix
Experience
or
Dark Side of the Moon
—those two albums probably showed me the way.
In some past interviews you've commented about how Italy is not an easy

place to "make things happen." What kind of message do you hope the

Rockin' 1000 sends to people both inside and outside Italy? Has the experience changed how you view possibilities in your home country?
Well, as Italians, we always have the impression that if you want to do something you have to know somebody, no way you can build your own project without certain connections. With Rockin'1000 we just proved everybody wrong, and this probably spread some hope here and there (but I am not saying that connections are useless—if we'd had some, we wouldn't have struggled as much as we did!).


Credits photo: Andrea Bardi e Marco Badiani