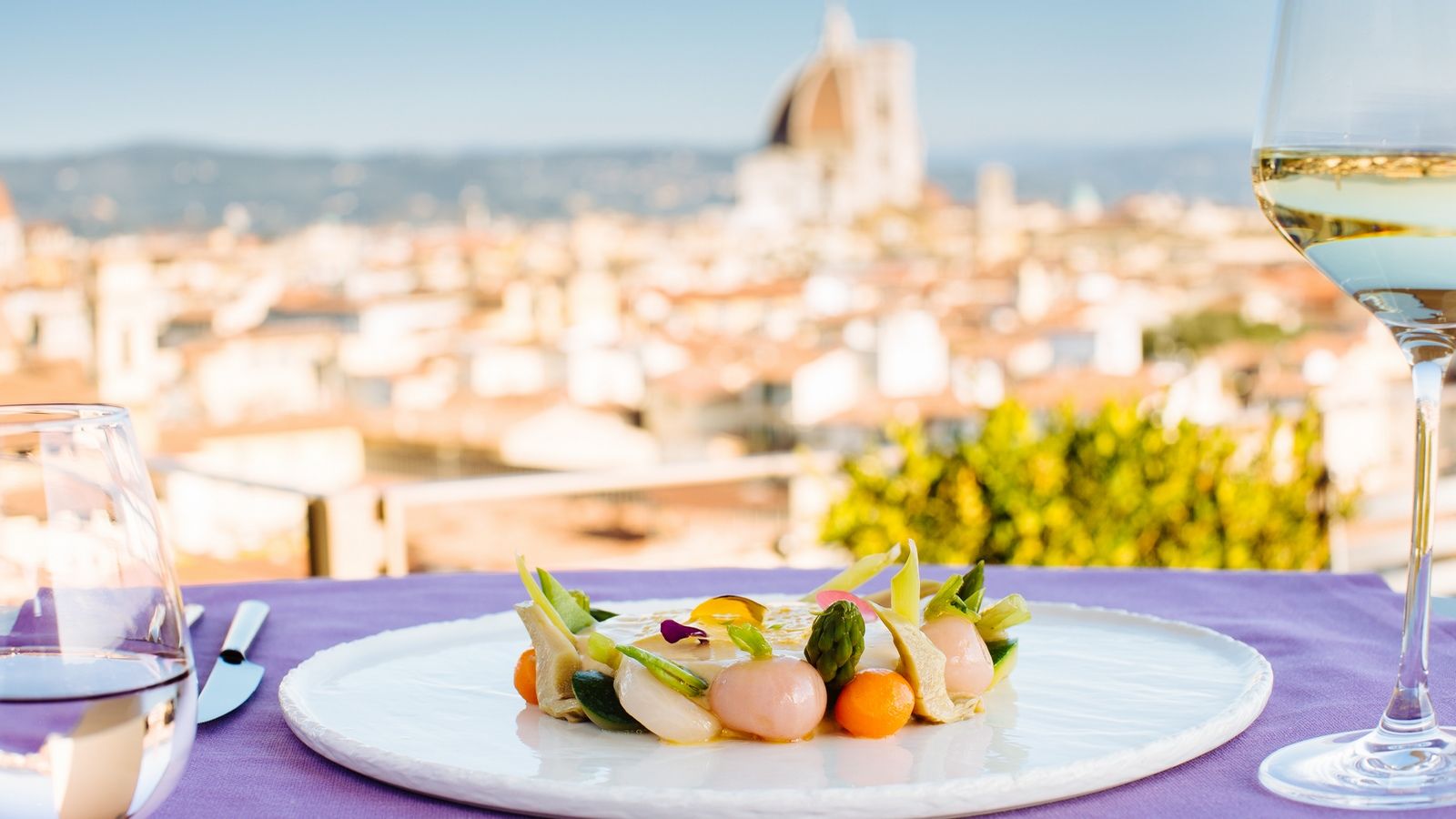 Traveling through taste: 10 restaurants to check out in Florence
An explorer's guide through some of the city's best restaurants, suitable for all palates.
On the hunt for suggestions on where to eat in Florence? Whatever your culinary preferences may be,
the range of restaurants in Florence is ample and varied
; to help you sort through the choices, we've rounded up 10 of our favorites, which all have both similar and distinguishing characteristics, based on both menu and location.
Here's a selection of spots where you can spend some time delighting your palate, either with your other half for a special occasion or as a more laid-back, informal night out or lunch on the town. We'll take you through some of the most interesting spots on the city's food and wine scene.
Kicking things off in the heart of the city
Looking for a casual dining haunt for couples or a group of friends? In the thick of the Santa Croce district, with an entrance in via Torta, you'll find
Cucina Torcicoda
, a dynamic space divided into three different dining rooms:
a wood-fired oven pizzeria, a gourmet restaurant and an osteria with traditional dishes.
After exploring the many wonders of the Santa Croce neighborhood, with its namesake piazza and magnificent basilica, you can top off your day with an exquisite bistecca alla Fiorentina (Florentine steak), or a top-quality pizza prepared Neapolitan style. Cucina Torcicoda
can satisfy a range of different tastes with its high-quality
, carefully curated menu.
If instead what you're after is something Tuscan-to-the-core, just a stone's throw away in via Ghibellina you'll find what you're looking for. At
Ristorante Boccanegra
,
traditional Tuscan cuisine reigns supreme
: bistecca alla fiorentina (Florentine-style steak) is definitely a must, but there are tons of other tempting dishes like pappa al pomodoro and ribollita, both cornerstones of the region's cuisine, which is heavily influenced by cucina povera ("poor man's cooking").
Once you're inside, you'll find a range of different spaces, subdivided but united by an elegant ambience that's at once moody and quintessentially Tuscan. It's the perfect place to recharge and indulge after a long day exploring the city.

Moving to the riverbanks
Can't resist the charm of the lungarni, Florence's riverside streets? We get it: they're the perfect spot for a romantic date, making any dining atmosphere nearly magical. Among the choices on this front is the historic
Harry's Bar
, on Lungarno Vespucci. You'll find
top-notch cuisine
; this haunt is perhaps best known for its beef tartare, which has made it famous with Florentines and visitors alike. Not to mention a fully stocked cantina with a wide and refined range of wines. The setting features exclusive spaces including private mini-salons, a terrace and a dehors, where you can take in views of Ponte Vecchio and other striking bridges.
An honorable mention goes to the cocktails
in the meticulous American Bar list: try them!
If you're instead on the hunt for something modern, where Tuscan tradition meets contemporary taste and aesthetics, move toward the opposite side of the city until you land at Lungarno del Tempio. Here you'll come upon
Trattoria Moderna
, a space with post-industrial, polyhedric decor to complement its
simple-yet-never-predictable dishes
, all
prepared using fresh, seasonal ingredients
. Expect an avalanche of flavors where nothing is left to chance: the kind of cuisine where nothing's done just to impress, but to focus on substance. Among the menu specialties you'll find a decadent spaghetti al polpo (spaghetti with octopus, ideal for warm summer days) or a pork chop with mashed potatoes, fennel and hints of licorice, a wonderful winter comfort food.
Toward piazzale Michelangelo and beyond
Maybe you love local specialties, but would never argue if something tasty from the international scene was presented to you. Sound familiar? Head toward Piazzale Michelangelo – calling it an incredible setting hardly does it justice – and grab a seat at
Ristorante La Loggia
. The building was designed by the architect Giuseppe Poggi and originally intended to hold some works by Michelangelo. Here, after falling prey to the charms of the city and admiring it from its most famous terrace, you'll be able to
satiate your appetite with a classic Florentine steak or a Rossini filet
, if you so choose.
Continuing with the spellbinding settings, you definitely won't be disappointed by
Le Bistrot
, the restaurant at the Hotel Villa Cora on Viale Machiavelli. This is a 5-star hotel and thus the restaurant serves up the kind of high-end fare you'd expect. The à la carte menu marries
top-shelf ingredients with carefully researched cuisine
, resulting in sophisticated dishes that you can enjoy in winter in an Eastern-inspired, frescoed room, or poolside in summer, with a view of the surrounding park.

Panoramic views and exclusive spots
Hoping to find something uber-exclusive, maybe for a romantic evening with your other half? Climb (ok, ride the elevator) up to the sixth floor of the iconic hotel The Westin Excelsior, and ste pinto
Se.sto on Arno
in piazza Ognissanti. Surrounded by lengthy glass windows you'll feel like you can reach out and touch Brunelleschi's Dome and Giotto's bell tower as you indulge in
contemporary and international dishes
, with a delicious emphasis on seafood: think cod ravioli or fresh fish from the local market with a gourmet chef's twist.
Fabulous option for a sunset aperitivo, too.
An alternative that's equally refined and has a similarly breathtaking backdrop is
B-Roof
, on the top floor of the Grand Hotel Baglioni in Piazza dell'Unità Italiana. Here you'll be surrounded by curated furnishings that feel timeless, plus a warm, welcoming atmosphere. A high-level cuisine awaits you, one that takes you on
a trip through some of the most distinctive scents and dishes of Tuscany
, prepared with extreme elegance. Even if you just stop in for an early-evening drink at aperitivo hour, you're in for quite a show – the views speak for themselves!
Looking for something innovative?
In the heart of the historic center, if you're hoping to find something innovative and a little unusual, you'll find two truly interesting possibilities. On via del Proconsolo, not far from Piazza del Duomo, you'll find
Nu OVO
, a play on words in Italian where
the absolute star is… the egg
(""uovo" in Italian).
This restaurant will give you endless inspiration on how to use eggs in your home cuisine: they've got a perfect, irrepplicable shape and infinite possibilities on how you can use them. They're simple and fast but delicious and nutritious: Nu OVO will remind you of their versatility. Open only at lunch, this spot is truly

unique on Florence's food scene.
If you're instead in Santo Spirito and you've admired the attractions of the neighborhood, including the basilica with its Michelangelo crucifix, the opulent Pitti Palace and the many artisan workshops around the neighborhood, make a stop at
Italian Tapas
,
a restaurant and cocktail bar
in via Sant'Agostino. It's a spot with a historic edge, since it's located inside a XVI century Florentine palace, but its staff and menu are guided by an extremely contemporary vision, where
Italian cuisine is presented in fresh ways.
Perfect for those of you are always looking for something au courant.
Photo header credits: Sophie Delaw