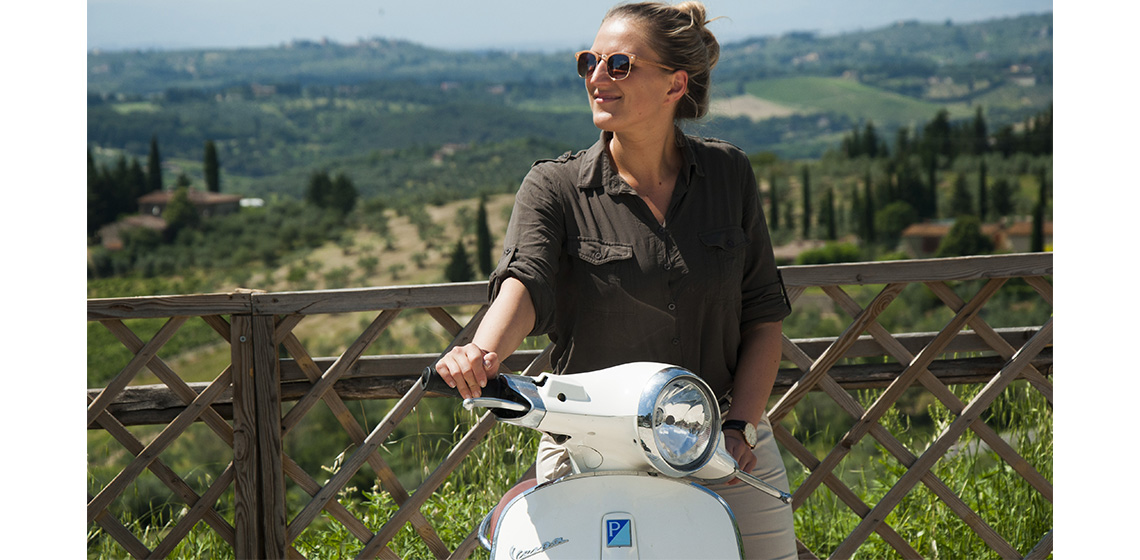 The road less travelled: authentic Tuscan tour experiences
Itineraries for those looking to escape the city.
Florence has enough Renaissance art and Italian culture to keep one occupied for months let alone days, but when the great open road calls, sometimes there's no resisting. There's an array of Made in Italy steeds that can get you out of the city walls and zooming through olive-tree-lined country roads for a
thrilling day away.
The Vespa, Italian style icon de rigueur, can get you zipping out of town in no time.
Vespa Tour Florence
provides a minivan into the countryside where you can start getting familiar with your soon-to-be new best friend. Once outside the busy and bustling city centre, an orientation conducted by an English speaking trained professional, means
you'll be safely enjoying the Tuscan countryside on this 19-mile round trip
taking in the sights while gliding down paved country roads with little traffic. A
vineyard in the Chianti region
is the first stop before visiting a
boutique winery
and finally ending the experience with a
typical Tuscan lunch
that's accompanied by a wine and olive oil tasting.
Not everyone lives to ride two wheels
and luckily the Chianti hills are just as accommodating to the Vespa's stylish sister, the Fiat 500. There's more than one option so hop into either the
Grand Tuscan Driving Tour
or the
Fiat 500 Vintage Dolce Vita tour
's vintage models and zoom up
to Fiesole
, stopping at
Piazzale Michelangelo
and the
San Miniato church
for breathtaking views
of the city. Further into the hills means a pitstop for lunch before returning to Florence, but not without
pausing at a family run Chianti vineyard for a tasting.
For those who want that dolce vita experience but are short on time, the
Afternoon Delight Italian Quickie Fiat 500 Tour
offers a no-frills thrill ride through Tuscany.
Start your day
the Italian way
with a cappuccino
and croissant
before riding through hidden roads, glimpsing castles and panoramic views
as they pass by.
Tuscany isn't all about Florence and Chianti
, Siena and its surrounding towns and villages host a myriad of wonders just waiting to be discovered.
The
Monteriggioni-Siena tour
covers the medieval village of Monteriggioni
, built in 1200 and characterized by its perfectly preserved belt of walls,
and the handsome city of Siena
, birthplace of artists such as Ambrogio and Pietro Lorenzetti. Explore by foot, while your guide uncovers the hidden treasures of both of these magical places, before private transport back to Florence.
Life in the fast lane is fun but exhausting.
You came to Tuscany to relax, didn't you?
The
VIP Horses and Vineyards tour
will help you do just that on their 1-day
Chianti countryside excursion.
After being shuttled to the Chianti wine region, you will meet your horse before
a relaxed and easy hour long horseback ride
to an ancient olive oil mill in a noble estate. Learn about the process of producing olive oil with a
guided tour and a tasting session
before arriving at a small ancient wine cellar whose peculiar method means they have won some of the most important international wine awards. Local fresh produce makes up
lunch in a restaurant
surrounded by nature
before a comfortable minivan ride back to Florence.
Sometimes all you need is beautiful scenery and the open road, so get into the driver's seat!