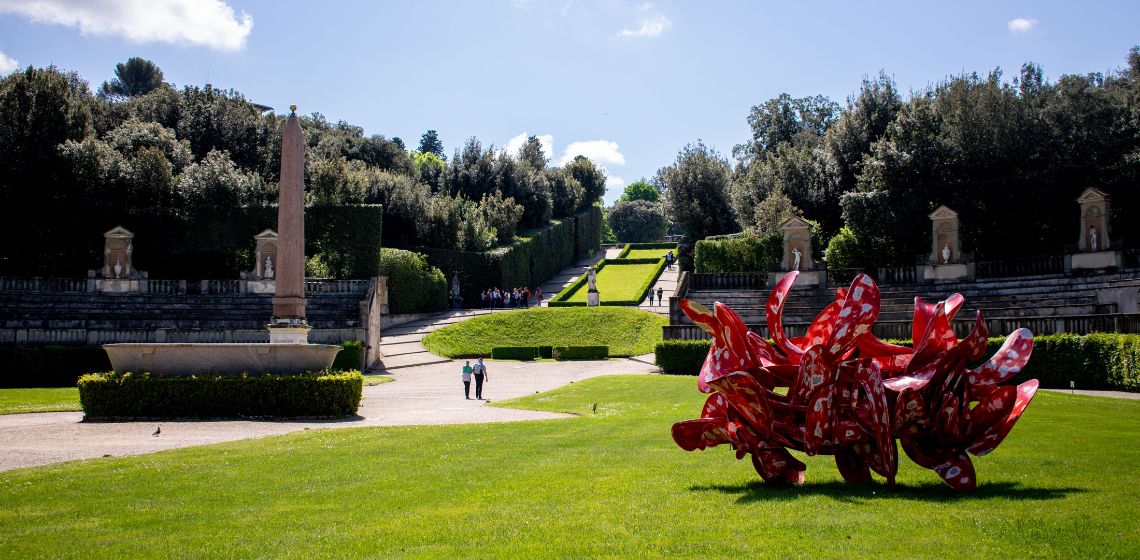 Boboli Gardens: one of the world's most well-known Italian gardens
Boboli, a veritable open-air museum, is renowned for both its architectural setting and for its vast collection of sculptures that ranges from Roman antiquity to the twentieth century.
When you think of green spaces in Florence, this is usually one of the first spots that comes to mind. The immense park spreads out behind Palazzo Pitti and is a true point of pride for Florentines. From its hilltop position, you can admire the entirety of Florence, gazing out at the Oltrarno and beyond. It's a remarkable place of peace, history, art, and mystery that deserves to be discovered with
statues and labyrinth-like paths on all sides.
Created as the Grand Ducal garden of Palazzo Pitti, it stretches as far as
Forte di Belvedere
, a military outpost for the safety of the sovereign, with its important role making up one of the reasons for its ranking as
one of the most important Italian gardens in the world.
Cosimo I de 'Medici gifted this enchanting park to his wife, Eleonora di Toledo
, when they acquired Palazzo Pitti and the surrounding land. Started in
1549
by Niccolò Pericoli (known as Il Tribolo), it's now loved by visitors from all over the world.
Strolling along its boulevards, the secrets you discover are endless. Boboli is filled with ancient and Renaissance statues, and even adorned with caves, the most famous one of which was created by
Bernardo Buontalenti.
Large fountains are among the many appealing factors, such as that of Neptune and the Ocean featuring a statue by the master, Giambologna.
Heading to the
terraces
, you'll encounter
paths
, open spaces, neatly nestled gardens, an
amphitheatre
and
sweetly scented roses
in an endless stream of beauty. Among these, make sure to admire the
eighteenth-century Kaffeehaus
built by Zanobi del Rosso between 1777 and 1778, a rare example of Rococo in Tuscany, and the Limonaia that retains its original Lorraine green colour.
Whether you're travelling with friends, family, or enjoying your own company, this place has a magic for all who enter it. Just make sure to set aside many hours as you won't want to leave!