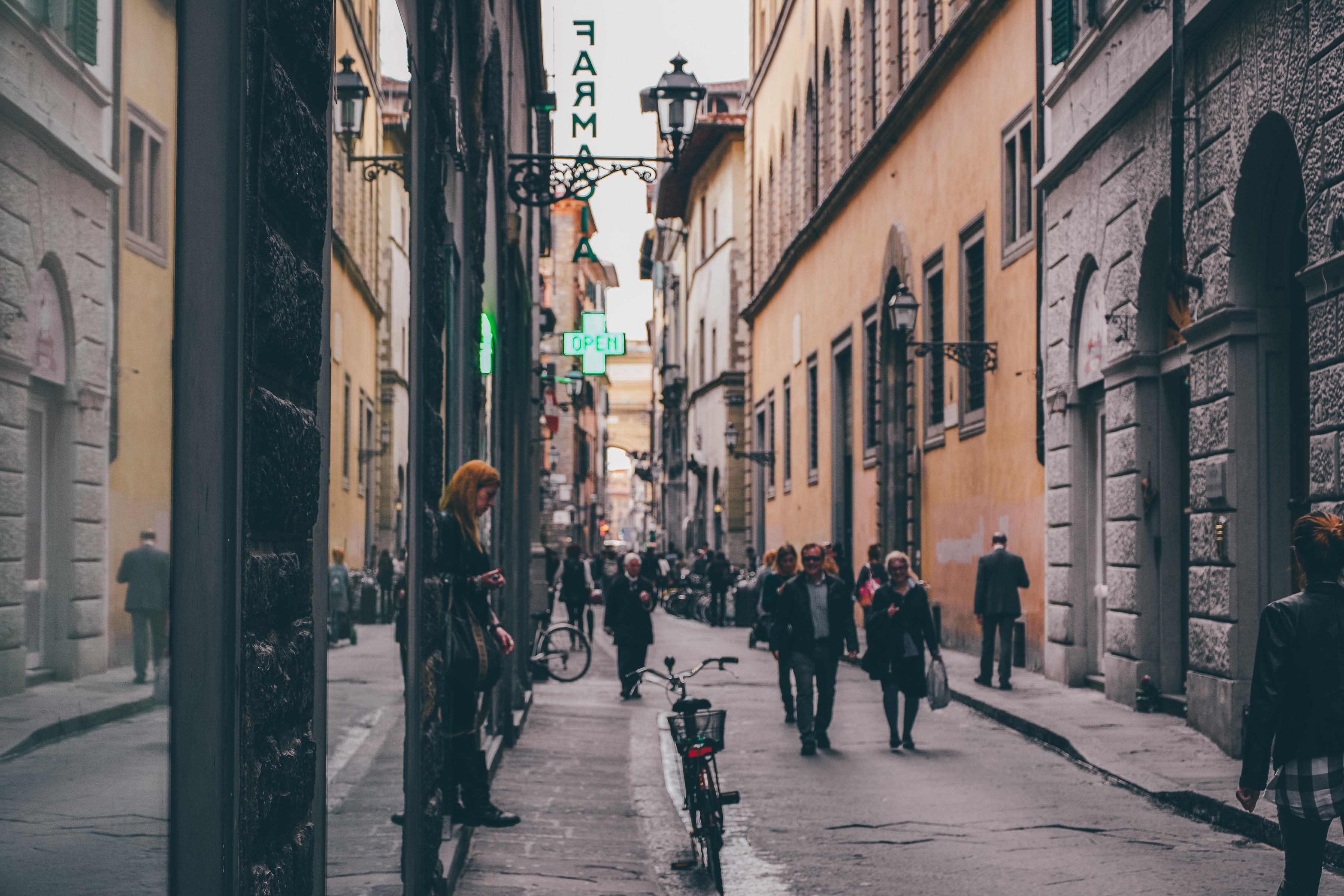 Florence walks from Destination Florence
4 walking routes to discover Florence's historic neighborhoods and their established businesses and workshops.
Historic businesses of Florence
Did you know on Destination Florence you can find the only downloadable digital guide to Florence's historic businesses? Try it now:
click here.
Florence is home to a network of businesses whose tradition dates back decades and, in some cases, even centuries: stores, coffee shops, pharmacies, bookstores, historic hotels and artisan studios make up the soul of the city alongside the many monuments. These businesses form the unique identity of Florence for residents and visitors alike. The official list of historic businesses is compiled and updated by the city council in order to preserve and protect this patrimony.
Florence Walks from Destination Florence: discover the city's neighborhoods and historic businesses
1. Oltrarno workshops
A free walk to discover the neighborhoods of the Oltrarno, Florence's "Left Bank", through its world-famous historic businesses and workshops. The tour shows you some of the longstanding businesses established in San Frediano and Santo Spirito, and will be accompanied by authentic anecdotes: "After the Second World War, customers here included silversmiths, decorators, picture frame makers, restorers, carriage drivers, rag vendors, seekers of iron, blacksmiths and artisans of all types."
Read 1. Oltrarno workshops
2. Streets of Santa Croce and Sant'Ambrogio

A walk to explore the historic businesses in the Santa Croce and Sant'Ambrogio quarters, wandering around the narrow streets to seek out small firms and studios, which are true gems of local culture. From one tabernacle and the next, treasure can be found behind every doorway. "The earliest students were war orphans from the Città dei Ragazzi in Pisa, followed by children from Florence's most depressed neighborhoods and many from the Third World, shown to the school by the Mayor at the time, Giorgio La Pira".


Read 2. Streets of Santa Croce and Sant'Ambrogio

3. Authentic Florence beneath Brunelleschi's dome

The third free Florence Walk takes you around the historic businesses near the Cathedral in the central San Lorenzo neighborhood, where authentic stores and characters still exist that shaped the identity of Florence, as well as many wine retailers: "Out front, you can admire paintings by Bausi, Landi, Bartolini and Annigoni; to the rear of the architrave, you can find works by Berti, Nuti and Monnini, and Brunetti, artists who created the "Classic Abstract Art Manifesto" Florentine art movement here between 1947 and 1950".


Read 3. Authentic Florence beneath Brunelleschi's dome

4. The businesses of Santa Maria Novella
We end with the fourth Florence walk to discover the historic businesses around Santa Maria Novella, other thriving part of central Florence. From piazza della Repubblica towards the main station, the Santa Maria Novella neighborhood is made up of ancient fabrics, pharmacies and apothecaries, as well as hotels with a bygone vibe. "This old pharmacy was founded in 1612 because from that year onwards greater focus was given to preparing medicines that made the Dominican pharmacy famous."


Read 4. The businesses of Santa Maria Novella